One of the strangest cases in British penal history unfolded on Monday February 23rd, 1885, when a condemned man survived three attempts to hang him at Exeter Prison.
John Henry George Lee – better known as John 'Babbacombe' Lee – was born in Devon and served briefly in the Royal Navy as a young man. Despite being a known thief, he later secured employment with Emma Keyse, an elderly spinster and former maid to Queen Victoria, at her home in Babbacombe Bay, near Torquay.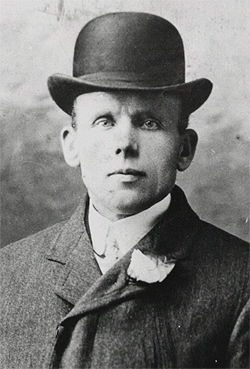 On November 15th, 1884, Miss Keyse was discovered murdered with a knife in the pantry next to Lee's room. She had been severly battered and her throat cut. Lee was soon arrested and charged with her murder, although the evidence against him was circumstantial and very weak. It amounted to Lee being the only man known to have been in the house at the time, his previous criminal record, an unexplained cut to his arm and allegations that he disliked Miss Keyse for the strict way she treated her employees.
From the outset Lee protested his innocence, saying her had nothing to do with the murder and that the police could find no proof against him because he didn't do it. Later independent investigations speculated that the murder might have been committed by a local Devon solicitor, Reginald Templer, who was having an affair with Miss Keyse' cook and was known to visit her room in secret. If the devoutly religious Miss Keyse had discovered them, it would have been a motive for murder.
Bizarrely, it was Templer who represented the accused Lee at his trial, and put forward a weak and unconvincing case. Lee, still protesting his innocence, was found guilty and sentenced to hang, with February 23rd set as the day for his execution.
It was a chilly morning when Lee climbed the steps of the gallows in the coach house at Exeter Prison. The mechanism had been fully tested two days before, both by a prison warder and the executioner James Berry. They had operated it five times but, perhaps crucially, without placing any weight on the trapdoor where Lee would stand.
It's hard to imagine what went through Lee's mind as a hood was placed over his head and the heavy hemp rope noose positioned around his neck. He would have heard James Berry pull the lever to release the trapdoor beneath him and anticipated his own imminent death… but nothing happened.
The agony continued as Lee was moved to one side while warders attempted to examine the malfunctioning trapdoors. Lee was then put back in position for a second attempt, which also failed, and then, following a further delay, a third failed attempt. At this point the Medical Officer, required by law to be there and to certify death, refused to take any further part in the proceedings. Without his presence the execution could not proceed and Lee was returned to his cell.
News of the botched hanging quickly spread, with speculation that Lee's life had been saved by "divine intervention" because he truly was innocent. He soon became known as "the man they couldn't hang". In fact, later investigations showed that moving the gallows from the prison's old infirmary to the coach house had caused the mechanism to go very slightly out of alignment, meaning the trap doors tended to bind when weight was put on them.
With the weight of public opinion now shifting in Lee's favour it was considered too cruel to put him through the ordeal of a second execution and instead Home Secretary Sir William Harcourt commuted his death sentence to life imprisonment.
Still claiming his innocence, Lee spent the next 22 years behind bars until his release in 1907. After that he gained some benefit from his notoriety by giving lectures on his life and his experience on the gallows, but his years in jail had not improved his character and he spent money as fast as he earned it.
In 1909 he married a nurse, but two years later dumped his pregnant wife in a workhouse and fled to America with another woman who he falsely claimed was his wife. After that, little is known of his life, except that he died in 1945 at the age of 80 and is buried under the name of James Lee at a cemetery in Milwaukee. The remarkable story of "the man they couldn't hang" inspired songs in his own lifetime and later a play, film, folk opera and TV drama.