Remember the magnificent Manchester Olympic Games of 2000? No, of course you don't, because they never happened, but 25 years ago today hopes were riding high that they would.
Officials bidding for Manchester to host the 2000 games were told on July 13th, 1993, that their chances were "very, very high". It came from none other than the President of the International Olympic Committee (IOC), Juan Antonio Samaranch, who spoke at Manchester Town Hall after touring the north-west and visiting some of the proposed venues for Olympic events.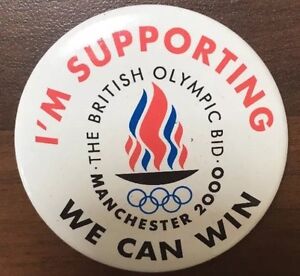 An official report on the suitability of the various cities bidding to host the 2000 Olympics still put Sydney, Australia, as the favourite, but it also praised the British bid while raising doubts over Beijing, China, and virtually dismissed a 'below standard' bid from Brazil.
During his visit, Mr Samaranch and his entourage were shown new facilities built or with construction under way since their visit three years earlier, when Manchester was vying for the 1996 Games. They travelled on the Metrolink tram system, went by helicopter to the equestrian centre at Haydock Park and saw the new Manchester velodrome, due for completion the following year.
They also experienced community support for the bid, visiting a local primary school and the Old Trafford home of Manchester United, where captain Steve Bruce showed off the club's impressive collection of silverware.
Typically for Manchester, it rained, but even that did not seem to dampen Mr Samaranch's apparent enthusiasm: "When I find rain in a country I think always that is a very lucky country," said the tanned Spaniard, used to sunnier climes.
Chairman of the Manchester 2000 Olympic team, Bob Scott, said of the city's bid: "We've been striving for technical excellence and the report shows this has been delivered. The report shows that Manchester has a very strong bid."
The final decision would be made by the 90 members of the IOC at their meeting in Monte Carlo on September 23rd. When their announcement came, it was a disappointment for Manchester, with the 2000 games awarded to Sydney. Several years later, in 1998, there was controversy when it was claimed some IOC members had been bribed to back Sydney's bid. An official investigation found some guidelines had been broken, but there was no evidence of corruption.
All was not lost for Manchester, which hosted the 2002 Commonwealth Games and did so very successfully, with its new facilities and organisation highly praised by competing nations. More recently it launched a joint bid with Liverpool to host the 2022 Commonwealth Games, but lost out to a rival bid from Birmingham, in the Midlands.
Meanwhile, Britain did get to host the summer Olympic Games in 2012, but in London, not Manchester. It beat off tough competition from Paris to host the games and again was highly praised for bringing off "the greatest show on earth". Beijing, which was criticised in the 2000 report, made significant improvements and was chosen to host the 2008 summer Olympic Games and will host the next winter Olympics in 2022. The most recent summer Olympics took place in Rio de Janeiro in 2016 and the next ones will take place in Tokyo in two years' time.