One of the world's most popular tourist attractions, Disneyland, opened on Sunday July 17th, 1955 – and it was a disaster.
For a long time referred to as "Black Sunday" by Disney executives, opening day was plagued by a series of mishaps, blunders and near disasters which earned a raft of negative press reviews. But they were soon forgotten as crowds began flocking to the California theme park, built on an irresistible blend of nostalgia, fantasy and futuristic ideas.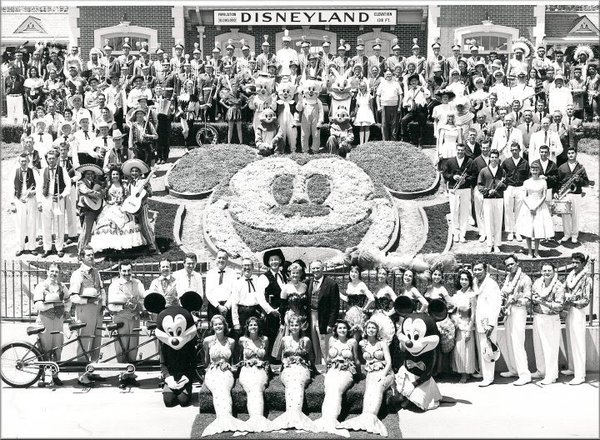 Though it would inspire several similar theme parks in other parts of the world, Disneyland was the only one overseen to its opening by Walt Disney himself. Centred on the iconic Sleeping Beauty's Castle, the attraction was built on 160 acres of former orange groves near Anaheim and cost $17 million – a staggering sum in 1955. It was the personal brainchild of Walt Disney, who envisioned an attraction to both entertain and educate children and adults alike, and staked his company's reputation and fortune on achieving it.
July 17th, 1955, was officially an "International Press Preview" day, only intended for invited guests and the media. Unfortunately, the official pass was counterfeited and sold to thousands of people desperate to have first sight of the highly-publicised attraction, while others simply climbed the under-patrolled perimeter fences. In total around 28,000 people got in – twice the number anticipated ­ – and the new and untested attraction simply could not cope.
There were massive traffic jams approaching Disneyland on an unusually hot 38°C day. Celebrities who had been scheduled to turn up at two-hour intervals all arrived together, throwing timings into disarray. Several women reported their heeled shoes sinking into the fresh and still soft asphalt. There were long queues for rides, some of which broke down. A report of a gas leak sent visitors running in panic and the Mark Twain Steamboat nearly capsized when too many passengers rushed aboard.
A local plumbers' union strike also meant Disney had to choose between having flushing toilets or working drinking fountains on opening day. He chose the toilets, but many visitors were angry at not having drinking water on a hot day. Because the opening was sponsored by Pepsi, they speculated it was a ploy to get people to buy the soft drink when no water was available. Several of the food vendors simply ran out of supplies, having anticipated only half the number of visitors.
On top of that, there were technical problems with live televised coverage of the event, and visitors complained of tripping over the TV cables snaking dangerously throughout the park. There was scandal too when one of the invited celebrities, married actor Robert Cummings, was pictured kissing a costumed dancer at the Frontierland attraction.
It all resulted in a flurry of negative publicity, with some media commentators apparently keen to knock Disney off his perch and branding his new attraction Walt's folly. But as the saying goes, "there's no such thing as bad publicity", and despite an inauspicious beginning, Disneyland soon recovered. The very next day – the first when the park was officially open to the public – queues began forming at the gates at 2am. TV coverage of delighted children describing the most exciting day of their lives meant the opening day teething troubles were quickly forgotten.
Since its opening, Disneyland has been expanded and renovated several time, with continually changing attractions meaning guests return again and again to see what's new and revisit old favourites. It now attracts around 14 million visitors each year, who collectively spend around $3 billion.
In 1965, a decade after Disneyland opened, work began on an even bigger theme park and resort near Orlando, Florida, where Disney had snapped up thousands of acres of swampland at a bargain basement price. Walt Disney would not live to see it open, dying of cancer in 1966, but when it did open in 1971, "Walt Disney World" was dedicated to his memory.
Since then, Disneyland Tokyo opened in Japan in 1983, followed by Disneyland Paris (also called "EuroDisney"), in 1992. The latest addition is Disneyland in Hong Kong. More than 60 years on from its opening, a visit to the original Disneyland still remains high on many people's holiday hitlist.