Congratulations to Tony Bowman, who has just become the world's fastest 84-year-old.
Lifelong athlete Tony, from Guiseley, West Yorkshire, represented Team GB at the European Masters in Italy. Competing in the 80 to 84 age group, Tony came away with three medals, winning gold in the 80-metres hurdles, silver in the 400-metres relay and bronze in the decathlon.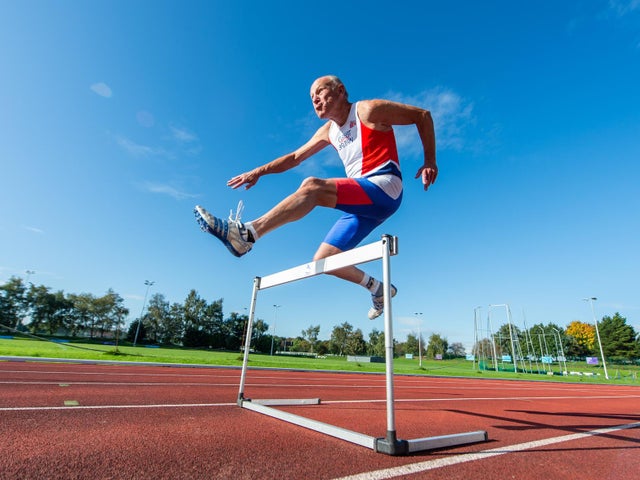 He also came fourth in the 100-metres and fifth in the 200-metres, despite competing at the upper end of his age group: "It's the younger athletes that are beating me," said an elated Tony. "There is no 84-year-old faster than me in the UK… no, in the world."
To win gold in the hurdles event he sprinted along the 80-metre track and cleared a succession of hurdles in just 16.8 seconds. Most men half his age would struggle to cover the distance in that time – even without the hurdles!
Grandad Tony began competing in athletics in his teens and has held a string of records in various age groups throughout his life. When he was in his 70s he had two heart attacks and underwent surgery to have stents fitted. He has since been treated for an abnormal heart rhythm. For many people, that might have signalled an end to their athletics career, but for Tony it just made him more determined to keep going and keep breaking records."
"I can't let my heart get in the way of my training," he said. "When I'm sprinting I have to give it my absolute all. My heart is the last thing on my mind."
However, he has made some lifestyle changes, cutting down his social drinking to one glass of wine every other night, switching to eating healthy fish more often than red meat, and limiting chocolate in his already healthy diet. As well as training every other day in various track and field disciplines, Tony keeps fit by playing hockey and dancing in various styles, including samba and tango.
"I now have to stay as fit as I can be to keep up my lifestyle," said Tony. "I feel very blessed that I have good genes, but I do work hard at keeping fit. Of course it helps that I love the feeling of running and sweating, especially when I'm winning. I feel like a 50-year-old and life is good!"
Tony competes in Masters events (for older athletes) all around the world, usually representing Great Britain, which he considers a great honour. And he isn't done breaking records yet. Next September he will turn 85, which will put him at the lower end of the next age category in Masters competition.
On current from, he looks set to break a raft of records in his new age group and is determined to do so. Longer term, he plans to be running the 100-metres at the age of 100 and hopes to live to 120.
Picture courtesy of Yorkshire Evening Post.