Britain's worst mountaineering disaster was unfolding on this day in 1971, when it emerged that five teenagers and one of their instructors had frozen to death after being trapped by severe winter weather in the Cairngorms.
Rescue teams, who battled blizzard conditions to search for the missing school party, finally found the bodies buried beneath snow on the exposed Cairngorm Plateau, at over 4,000ft. There were just two survivors, a 14-year-old boy and the group's 21-year-old leader, who were rushed to hospital in Inverness suffering from severe exposure and frostbite.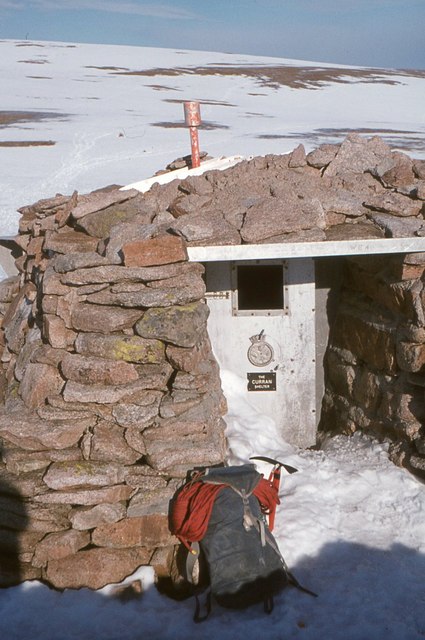 The teenagers were all from Ainslie Park School, in Edinburgh, and had been on a school trip to the Lagganlia Outdoor Centre, in Kilncraig, Aviemore, which was owned by Edinburgh Council. Fourteen students and three leaders had set out on November 20th on a two-day navigational exercise to cross the Cairngorm Plateau.
They split into two groups, with the more experienced youngsters tackling a tougher route led by 23-year-old teacher Ben Beattie, who was the school's instructor in outdoor education. The other group was led by Beattie's 22-year-old girlfriend, Catherine Davidson, a trainee teacher who had been approved to help run the school's mountaineering club. Also with them was 18-year-old Sheila Sunderland, who had just started as a volunteer trainee instructor at the Lagganlia Centre. All the students were aged 14 or 15.
Both groups were to cross the plateau then descend to a "bothy" (mountain shelter) where they would spend the night before returning by different routes the following day. In case of emergency, the backup plan for each group was to head for the Curran shelter (pictured), high on the plateau.
Shortly after setting out, the weather began to deteriorate, with heavy snowfall and strong winds. Beattie's group successfully navigated their way to the Curran shelter, where they dug snow from the doorway and spent the night inside. But Davidson, leading the less experienced group, worried she would not be able to find the Curran shelter in "white-out" conditions with severely restricted visibility. She decided to head for a small stream and follow it uphill to the loch which fed it and which was next to the shelter.
Unfortunately, the stream ran in a dip which had filled with snow, completely obliterating it. With the children in her party becoming increasingly anxious and exhausted, Davidson decided their only option was to dig a snow shelter and bivouac for the night, hoping that conditions improved. The site they chose was only about 500 yards away from the Curran shelter, but she had no way of knowing it.
Rather than improve, conditions worsened and Davidson's group were trapped, with windblown snow piling up around them throughout the night and the following day. Meanwhile, Beattie's group had great difficulty getting out of their hut the following day because of the snowfall and blizzard conditions, but finally managed to navigate their way off the plateau to safety. It wasn't until 7pm on Sunday that they were able to report Davidson's party missing, having previously assumed they had made it to another shelter.
Several mountain rescue teams were mobilised and prepared to set out before dawn on Monday morning, with support from a search and rescue helicopter from RAF Leuchars, in Fife. It was the helicopter which spotted Davidson, attempting to crawl for help and barely alive. Although the helicopter was unable to land, crew members were offloaded and eventually managed to winch Davidson to safety. Although disorientated and barely able to speak, she managed to tell her rescuers that the rest of the party was close by.
Alerted by radio, the mountain rescue teams made for the site, sometimes battling through waist-deep snow, but when they arrived only one the students, a boy, was still alive, and then only just. The other five teenagers and their assistant leader, Sheila Sunderland, had all perished and their bodies had to be dug out of the deep snow.
A Fatal Accident Inquiry held the following February reported that the deaths had been due to cold and exposure. It made a series of recommendations about the planning and execution of future school expeditions into the mountains, with special regard to winter conditions. There was also criticism that the children's parents were not given full information about the planned activities, with several assuming they were simply staying at the outdoor centre.
John Duff, leader of the Braemar Mountain Rescue Team and an experienced Cairngorms mountaineer, said several mistakes had led to the deaths, but the biggest one was even to consider "an appallingly over-ambitious expedition for teenage children".