The Newest Stairlift Safety Feature
Acorn is proud to launch the ground-breaking StairSafe monitoring system for your Acorn Stairlift. This one-of-a-kind, additional feature will monitor the activity of your stairlift, providing you and your family with peace of mind.
Interested in StairSafe for your Acorn Stairlift?
Contact us today for a FREE StairSafe quote!
Current StairSafe customers: Sign in or Activate your Acorn Club customer portal today to view your StairSafe benefits
Once you have activated your account, you will be able to download the Acorn Club app onto your mobile device to receive push notifications.
Go to Acorn Club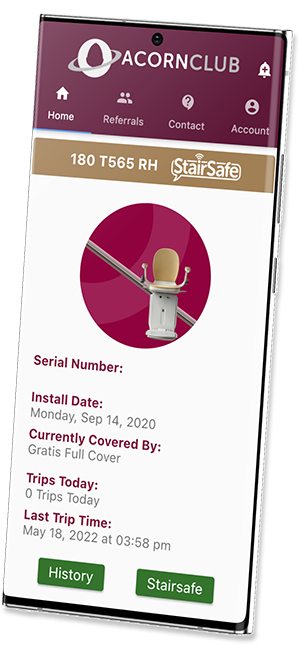 Designed with Your Safety in Mind
The StairSafe system consists of a small module installed in your Acorn Stairlift which monitors the location, journey, and usage. All this data feeds back to StairSafe HQ, where if an error is detected, we'll notify you. StairSafe can ease some worries about safety and the possibility of having to pay for maintenance.
Mobile Alerts
StairSafe allows you to set up regular notifications about the usage, for added peace of mind. Recieve updates via text message with all relevant information.
Diagnostics Monitoring
For your safety, your Acorn Stairlift is in constant communication with our central monitoring centre. We monitor on a regular basis to ensure excellent operation.
StairSafe Portal
You can quickly and conveniently set the usage parameters of your StairSafe system to meet your needs within the Acorn Club customer portal. If you need assistance, you can send us a message right in the app!
StairSafe Detects Critical Information
StairSafe can detect the following information and send updates to you or a loved one via text message.
Activated Safety Edges
Lift Switch ON/OFF
Sleep Mode Activation
Irregular Use
Lift Moving
Safety Rail Position
Minor & Major Error Codes
Service Required
Battery Usage
Lack of Charge
Included with StairSafe
Safe and Secure Settings
Maintain the safety and security of your details, as well as the information of your assigned contacts. Acorn Stairlifts and StairSafe take care of your information and only use it for in-app features.
Save Money
When you get regularly notified about your Acorn Stairlift you can help prevent costly repairs. Get ahead of an unlikely inconvenience or costly repair with the help of StairSafe.
Informative Details
From the amounts of trips you've taken to your overall battery usage, StairSafe allows you to check out all your stairlift's important specifics.
Your Stairlift Data in One Place
Get all your stairlift's up-to-date details with the click of a button. This feature is now a part of our Acorn Club customer portal and provides a continuous summary of the activity and status of your stairlift right at your finger tips.