Nine out of 10 GP surgeries in England have been rated as 'good' or 'outstanding' after a three-year inspection regime involving more than 7,300 surgeries across the country.
Published by the Quality Care Commission, the results of the comprehensive inspections put General Practice as the highest performing sector in the NHS, above hospitals, social care and mental health. Just 8% of the GP surgeries inspected were rated as 'requiring improvement' while only 2% were rated 'inadequate'.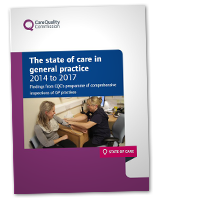 By far the greatest number (86%) were rated 'good', with the highest performing 4% rated 'outstanding'. The inspections covered all aspects of how GP surgeries are run, from the care the quality and punctuality of the care they provide to their administration, leadership and responsiveness with patients.
GP surgeries which were awarded the highest inspection ratings were found to:
Demonstrate strong leadership
Understand everyone's responsibilities in the practice team
Have a clear knowledge of the different heeds of their patient groups
Recognise the importance of working as part of their wider local health economies.
The overwhelmingly positive results come in spite of increasing pressure on many GP surgeries, with a 7% increase in the number of people registering with GP practices over the past three years and reports that in some areas people find it difficult to access a GP. Professor Steve Field, chief inspector of GPs for the Quality Care Commission, said the inspection results were impressive and the sector should be commended for its efforts in the face of growing pressures.
"The pressures on GPs are very real," he said, "but we have found many practices are already delivering care in new and innovative ways to benefit their patients and wider community."
Examples of innovation included embracing digital and online technologies to improve access to GP services, and working proactively with other local care providers such as District Nurses, which was particularly effective for practices covering large rural areas.
The inspections did flag up some areas for improvement, with safety concerns identified at one in seven practices. These included filling in prescriptions quickly, having working defibrillators available, storing vaccines at the right temperature and learning from mistakes. However, the inspection results also showed that several practices had made clear improvements following re-inspections of the worst-performing 1,400 GP surgeries.
Dr Richard Vautrey, from the British Medical Association, commented: "These positive results are undoubtedly down to the hard work of GPs and practice staff, but many are in an environment where they are increasingly struggling to deliver effective care to their local communities.
"A recent BMA survey found a majority of GPs in England are considering temporarily closing their practice list to new patients because of the impact of soaring demand, stagnating budgets and widespread staff shortages."
Health Secretary Jeremy Hunt MP acknowledged the need to expand the GP workforce and said a number of government initiatives are already in place to achieve that. These include incentives and opportunities for more medical students to train as GPs as a long-term solution, and stepping up recruitment of qualified GPs from abroad to help bridge the gap in the short-term. Mr Hunt also welcomed the results of Care Quality Commission's inspections, describing them as a "huge achievement" and congratulating GP surgeries on their performance.
For a more detailed look at the Care Quality Commission's report (The state of care in general practice 2014 to 2017), click here.