In a spectacular fall from grace, former champion jockey Lester Piggott was sentenced to three years in prison 30 years ago today, on October 23rd, 1987.
The highly-successful multi-millionaire jockey had been convicted of failing to declare income to the Inland Revenue totalling more than £3 million. That amount made it the biggest tax evasion case centred on an individual (rather than a business or corporation) ever brought in Britain, but even then many people were surprised at the length of the prison term.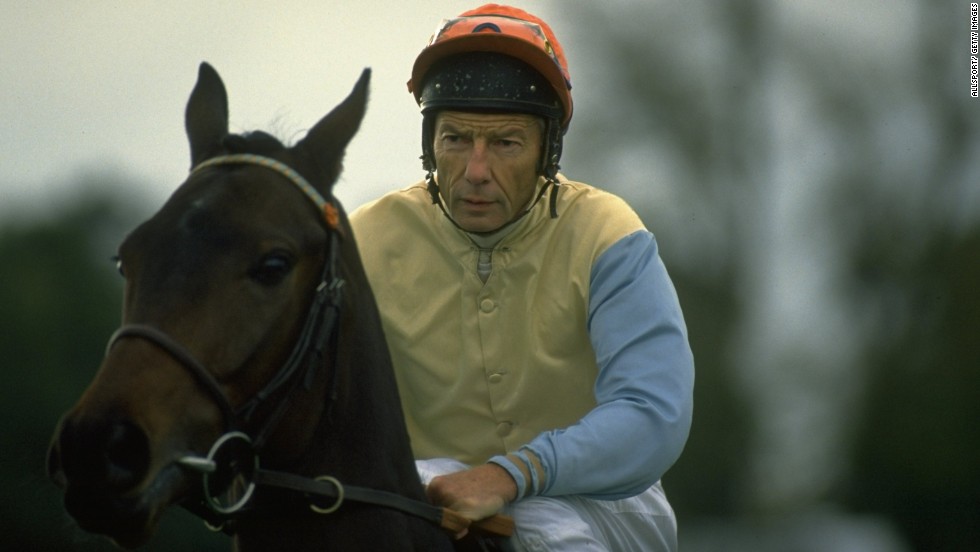 Piggott himself remained expressionless as the sentence was delivered by trial judge Mr Justice Farquharson, but his wife Susan, who had been present throughout the trial, collapsed in tears as he was led away to Norwich Prison.
Raised in a family of jockeys and trainers, 51-year-old Piggott had been racing since he was 10 years old, winning his first race at 12 and becoming the youngest ever winner of the world-famous Epsom Derby when he was just 18. He would go on to win the famous flat race another eight times in a spectacular career which saw him notch up some 5,300 wins in more than 30 countries.
His reliability made him the closest thing to a 'sure bet' the horse racing world had ever seen and he was nicknamed "the housewives' favourite" after tempting more people than ever before to 'gamble on the gee-gees', including thousands of women. It also helped Piggott amass a personal fortune estimated at £20 million, not just from his winnings but also from dealing and investing in thoroughbred race horses (known as 'bloodstock' trading).
But Piggott was also notoriously thrifty and secretive about his earnings, leading the Inland Revenue to investigate his finances three times, eventually catching him out with its third intensive probe. Codenamed "Operation Centaur" (after the mystical animal that was half-man and half-horse) it uncovered a complex web of financial dealings designed to deprive the taxman of his full due.
Prosecutors were able to show Piggott had used different names to channel earnings into secret bank accounts in Switzerland, the Bahamas, Singapore and the Cayman Islands. It also meant he had knowingly signed false declarations to the Inland Revenue during all three investigations into his accounts, which was the basis of the tax fraud allegations against him.
The biggest single sum on the charge sheet was failing to declare £1,359,726 from additional riding income, with another charge that over a 14-year period he omitted income from bloodstock operations amounting to £1,031,697. The total claim was for £3.25 million, which would equate to around £8.4 million in today's money.
Rumours abounded that Piggott's financial dealings were not unique, or even unusual, in the big money world of elite horse racing, but the Inland Revenue said it was too early to speculate on whether other prosecutions would follow. It was clear, on his conviction, that Piggott was going to jail, but many of British horse racing's top figures expressed shock at sentence handed down.
Reigning Champion Jockey Pat Eddery commented: "I didn't think he would get three years, but the law is the law." Leading Newmarket racehorse trainer David Thom went further, calling it "a terrible injustice" and saying that Piggott had "put more money in the taxman's coffers than any 100 people could have done."
But appeals for leniency from Piggott's defence team fell on stony ground, with the judge saying he could not overlook the scale of his tax evasion and that to do so would be "an invitation" to others tempted to cheat the taxman.
Once behind bars, Piggott was a model prisoner and was released on parole after serving 366 days inside n– a third of the total sentence. By then 52, many thought he would retire, but instead Piggott got back in the saddle and won famous victories in the Breeders' Cup Mile in America and the 1992 2000 Guineas Stake at Newmarket (his 30th British Classic win), along with many other wins.
He finally retired from competitive riding in 1995 at the age of 59 and, although he largely stays out of the limelight, he remains an active and well-respected figure in the world of horse racing. It has been reported several times that what hurt Piggott more than his imprisonment or having to pay back millions to the taxman, was being stripped of his OBE, which he felt was unfair as he had earned it through his success on the racecourse.