Today marks five years since the death of an actor made famous by one of British comedy's best-loved characters.
Clive Dunn made the role of Lance Corporal Jones in long-running sitcom "Dad's Army" his very own and will be forever remembered as the doddering, excitable, accident prone and quick-to-volunteer old trooper. His catchphrases – "Don't panic Mr Mainwaring!", "Permission to speak sir?" and "They don't like it up 'em!" became mainstays of the popular show and live on in popular culture.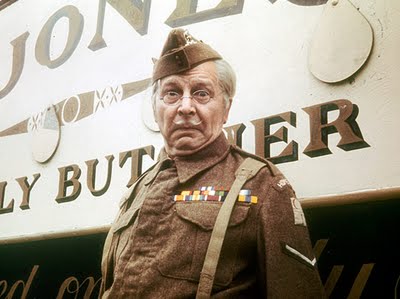 Born in Brixton, South London, on January 9th, 1920, Dunn was the son of actor parents and on leaving school followed in their footsteps, training at the Italia Conti Academy of Theatre Arts. He began to win small film roles from the 1930s onwards, gaining experience alongside established actors including Will Hay, Jimmy Hanley and Charles Hawtrey.
In 1940, with the Second World War under way, Dunn joined the army and served briefly in Greece, but was among 400 men of his regiment (the 4th Queen's Own Hussars) taken prisoner when the country fell to the Germans. He would spend the next four years as a prisoner of war in Austria, but stayed in the army after the war ended and was demobbed in 1947.
He then resumed his acting career, mostly in repertory theatre, but began to pick up TV roles in the 1950s, appearing in both series of "The Tony Hancock Show" and a 1960 episode of "Hancock's Half Hour". By now he had already developed his trademark character of a doddering old man, much older than his real age, evidenced when he played a character called Mr Johnson in the sitcom "Bootsie and Snudge", a spin-off from "The Army Game".
Dunn was just 48 when he landed the role of Lance-Corporal Jack Jones, making him one of the younger members of the "Dad's Army" cast. His character is the 70-year-old town butcher of Walmington-on-Sea, keen to join the newly-formed Local Volunteer Force (later renamed the Home Guard) because of his previous military experience. Various storylines have him serving in the Sudan, on India's North-West Frontier and throughout the Boer War and First World War.
He often recalls facing the "fuzzy wuzzies" in the Sudan and their terror at the British bayonets, which he calls "the cold steel", insisting that "they don't like it up 'em!". The sitcom's co-writer, Jimmy Perry, remembered an old campaigner using the phrase during his own service in the Home Guard, when he (much like "Dad's Army" character Private Pike) was too young to join the regular forces.
Always the first to volunteer, Corporal Jones would near-hysterical with excitement whenever danger seemed imminent, shouting "Don't panic! Don't panic!". Because of his relatively young age, Dunn was given much of the series' physical comedy to perform and his character soon emerged as one of the main stars.
The role made Dunn a national star and in 1971 brought him an unlikely number one hit in the pop charts with the song "Grandad", accompanied by a children's choir. He was 51 at the time and although he had two daughters with his second wife, Priscilla, he was a long way from being a grandad.
When "Dad's Army" ended in 1977, after almost a decade, Dunn – by now known for his skill in playing older characters ­– was given the lead role in children's TV comedy series "Grandad". He played the calamity-prone village hall caretaker Charlie Quick for five years, until the series ended in 1984. By now in his mid-sixties and comfortably well off, Dunn had no desire to carry on until he dropped, and instead chose to retire, doing so in the sunnier climes of Portugal.
He spent the next 30 years living happily on the Algarve, spending his time painting and generally enjoying life. He still made very occasional appearances on TV, radio or in the press, usually in documentaries or article celebrating the success of "Dad's Army". When Clive Dunn died on November 6th, 2012, at the age of 92, it left only two surviving main cast members of "Dad's Army", Ian Lavender (Private Pike) and Frank Williams, who played the Vicar.
Unlike some actors who come to resent being typecast by a particularly successful role, Dunn was always grateful for Corporal Jones and happy to talk about him with fans. Ian Lavender remembered: "Out of all of us he had the most time for the fans. Everyone at one time or another would be tempted to duck into a doorway or bury their head in a paper; but not Clive, he always made time for fans."