Today we wish a very happy 91st birthday to actress June Brown, best known for playing the role of Dot Cotton in EastEnders for most of the past three decades.
Born in Suffolk on February 16th, 1927, June Muriel Brown was one of five children, although two of her siblings would die in infancy. During the Second World War she was evacuated to a village in west Wales until she was old enough to join the Women's Royal Naval Service (the Wrens), keen to do her bit for the war effort.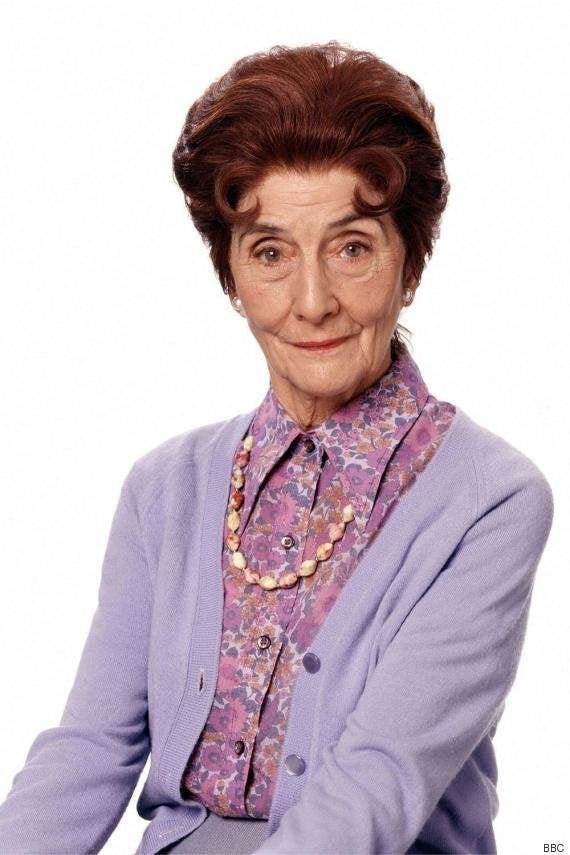 After the war she won a place at the renowned Old Vic Theatre School, in Lambeth, to be classically trained as a stage actress. Most of her early work was on the stage, both in London and in theatres around the country, where she honed her craft. Switching frequently from one play to another taught her the valuable skill of learning her lines quickly and efficiently.
At the age of 23 she met and married fellow actor John Garley, but he suffered from depression and took his own life in 1957. The following year she married another actor, Robert Arnold, who was a regular in the popular TV show "Dixon of Dock Green".
Virtually giving up her own acting career, June had six children with Arnold over the next seven years, although one died in infancy. She was a devoted wife and mother, who would stay with Arnold for 45 years until his death in 2003.
With her children growing up, June was able to resume her acting career, initially with small roles in television productions. Her husband's contacts in TV helped her get some of the early parts, but she soon gained a growing reputation as a fine character actress. Among her early TV work was a role in "Coronation Street", appearing in three episodes as Mrs Parsons, the mother of a boy who was having harmonium lessons from Ena Sharples.
Other roles in the 1970s included parts in "Doctor Who", medical drama "Angels", "The Bill", "Minder" and cult sci-fi series "Survivors". One of her bigger roles was as Mrs Violet Leyton in popular costume drama "The Duchess of Duke Street". There were also a few film roles, including cult 1971 low budget horror "Psychomania", 1971 thriller "Straw Dogs" with Dustin Hoffman, and the 1980 biopic of ballet dancer "Nijinsky".
But the show that would bring June Brown into millions of people's living rooms week in and week out was BBC soap opera "EastEnders", launched on February 19th, 1985, three days after her 58th birthday. Her character didn't appear until July of that first year ­– working in the launderette and the mother of local crook and ne'er-do-well Nick Cotton – but she would become one of the long-running soap's mainstays.
She was suggested for the role by original cast member Leslie Grantham, who played Queen Vic landlord "Dirty Den" Watts. Apart from a break between 1993 and 1997, June has played Dot Cotton – later Dot Branning – ever since, arguably having one of the toughest lives of anyone in the gritty drama. In January 2008 she became the first, and so far only, character to carry an entire half-hour episode single-handed.
The episode was devoted to a monologue looking back on her life and dictated onto a cassette recorder for her husband, Jim Branning, to listen to in hospital, where he was recovering from a stroke. It had extra poignancy as the actor who played Jim (John Bardon) had suffered a stroke in real life and was a good friend of June's. Her acting in the episode was lauded by TV critics as a tour de force and earned her a BAFTA Best Actress nomination the following year. Typically, she played it down, saying it had been relatively easy as there were no other actors forgetting their lines!
Despite the demands of appearing in EastEnders, June still occasionally took other acting roles, including the BBC's big budget production of "Gormenghast" in 2000. In 2012 she also hosted a documentary, "Respect Your Elders", looking at society's treatment of and attitudes towards the elderly.
In the past couple of years she has revealed that her eyesight is failing through macular degeneration, a predicament which has been written into her EastEnders storylines. Although her workload in the soap has become lighter, she remains one of its most popular and memorable characters, and one of Britain's best-loved actresses.