Do you still have any old 'paper' £10 notes left in your purse or wallet, or perhaps tucked away in a drawer for emergencies?
If you do, then you only have just over a week to spend them or swap them for the new 'plastic' tenners before they go out of circulation. The old paper £10 note (pictured below) will cease to become legal tender next Thursday, March 1st.
T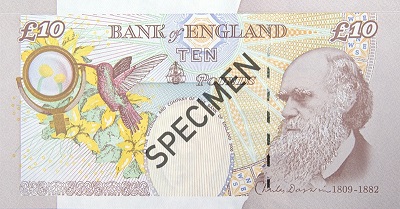 he new £10 note, made from a hardwearing plastic polymer, made its debut on September 14th last year, and ever since they have been gradually replacing the old 'paper' tenner (actually made from a kind of linen). As shops and businesses bank their cash takings, the old £10 notes, featuring an image of naturalist Charles Darwin, have been taken out of circulation and destroyed, replaced by the new and slightly smaller notes, which feature author Jane Austen.
However, the Bank of England estimates that there is still around two billion pounds' worth of the old tenners in circulation and which will cease to become legal tender in just 10 days' time. A small number may have been lost or destroyed, but many more will be tucked away in savings jars, holiday funds, kept in drawers as 'rainy day cash' or even down the back of the sofa or under the mattress.
The message from the Bank of England is to check now that you haven't got a stash of the old £10 notes squirreled away, or even the odd one or two in a spare coat pocket or purse. Maybe you've been given some money for a birthday or Christmas present and put it away until you can think of what to spend it on? If you do find some old-style £10 notes, either spend them if you want to, or take them to you bank or the post office and ask to change them for the new version of the note.
If next week's deadline passes and you then turn up some of the old tenners, don't panic – you haven't lost your cash. For a short grace period, most banks, building societies and Post Offices will probably still exchange the notes for new ones (although they are not legally required to do so).
If all else fails, you can also swap the notes at The Bank of England, in the City of London, which says it will continue to exchange them indefinitely. You can either take them in person or post them (at your own risk!), but you will also need to fill in a form and present acceptable identification. For full details of how to exchange old notes at the Bank of England, visit its website by clicking here.
It is far easier though to exchange the notes while they are still in circulation, or in the couple of weeks or so afterwards, if your own bank is willing. And if you search around and find some that you'd forgotten about, maybe it's a good excuse to treat yourself by spending them on a treat.
The new £10 note is 15% smaller than the old one and should last about two-and-a-half times longer. It also incorporates a range of high-tech anti-counterfeiting measures, although forgers haven't tended to target lower denomination notes as the cost of producing convincing fakes usually outweighs their face value. According to the Bank of England, in 2017 just 0.0054% of all £10 notes were found to be fake, and the figure was even smaller (0.0002%) for £5 notes.
The new tenner is also the first UK banknote to incorporate a 'tactile feature' – a series of raised dots in the top left-hand corner. Similar to braille, it will help blind and partially sighted people identify the note and has been developed in conjunction with the RNIB.
When the old paper tenner goes out of circulation next Thursday, it will mean that all 'legal tender' £5 and £10 notes in circulation in the UK will be the new plastic polymer versions. A new polymer £20 note will be introduced in 2020 and feature a portrait of artist J.M.W. Turner, plus many of the same security features found on the new £5 and £10 notes. No plans have yet been announced to replace the current £50 note, featuring steam engine pioneers Matthew Boulton and James Watt.
For more information about banknotes issued by the Bank of England, click here.