One of Britain's most original and often outrageous comedians would have celebrated his 60th birthday today, had he not died tragically young.
Richard Michael "Rik" Mayall was born on March 7th. 1958, in Harlow Essex, the second of four children for drama teachers John and Gillian Mayall. When he was three the family moved to Worcestershire, where he spent the rest of his childhood, often cast in his parents' drama productions.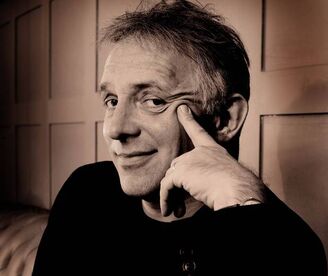 An under-motivated student, he failed most of his O Levels but scraped through his A Levels to secure a place studying drama at the University of Manchester, where he would discover his true vocation. It was there that he met his future comedy partner Ade Edmondson, as well as fellow students Ben Elton and Lise Mayer, who would help script many of his comedy roles.
Finding a kindred spirit in Edmondson, the duo soon began to make a name for themselves on the local comedy circuit with a unique brand of anarchic comedy. After leaving university they became regular performers at The Comedy Store, in London, where they met others on the emerging 'alternative comedy' scene including Alexi Sayle, Nigel Planer, Peter Richardson and French and Saunders.
A group of them soon set up their own comedy club in Soho's Raymond Revuebar, calling it "The Comic Strip". Mayall continued to develop characters including awkward and socially inept self-styled "investigative journalist" Kevin Turvey. That character secured him his first regular TV work, with a weekly "Kevin Turvey Investigates" spot on comedy show "A Kick Up the Eighties". There was also an early and brief film role in 1982 cult horror film "An American Werewolf in London".
Meanwhile Mayall and Edmondson continued their anarchic double act, often appearing as "The Dangerous Brothers", whose slapstick and usually ridiculously violent routines gave an early foretaste of one of their most popular TV series, "Bottom".
Channel 4 gave The Comic Strip group its first big break, commissioning six individual TV comedy films under the title "The Comic Strip Presents…". It came at around the same time as the BBC commissioned "The Young Ones", a madcap comedy set in a student house and written by Mayall and his then-girlfriend Lise Mayer. By now the alternative comedy wave was fully formed, with Mayall and his friends riding its crest.
Memorable and recurring roles in "Blackadder", written by Ben Elton, helped cement Mayall's reputation, none more so than the outrageous "Lord Flashheart". A follow-up to "The Young Ones", entitled "Filthy Rich and Catflap", fared less well, but Mayall's star was still rising and he was now gaining more acting roles, on stage and screen. His portrayal of fictional Tory MP Alan B'Stard in Yorkshire TV comedy "The New Statesman" brought still more acclaim.
He was in demand throughout the 1990s, for live comedy tours, film roles including starring in 1991's "Drop Dead Fred", and a growing amount of voiceover work. But the decade's biggest success by far was BBC sitcom "Bottom", again alongside comedy partner Ade Edmondson. As well as three TV series, it spawned five live stage-show tours and a 1999 feature film, "Guest House Paradiso".
Away from the spotlight, Mayall had married make-up artist Barbara Robbin in 1985 and over the following decade they had three children together. There was a near disaster in 1998 though when Mayall fell off a quad bike near his home in Devon and suffered serious injuries including a fractured skull. He was kept sedated and in an induced coma for several days amid fears his injuries could prove fatal or result in brain damage.
Thankfully he recovered and gradually returned to work, taking various TV and film roles and becoming a key player in the bi-annual Comic Relief charity fundraiser. Although he at times suffered with depression and insecurities, especially after his accident, it was never evident in his work, where he was as energetic and creative as ever.
Tragedy would strike on June 9th, 2014, when Mayall suffered a massive and fatal heart attack after jogging on a warm and humid day. News of his untimely death, at the age of just 56, left his many fans shocked, desolate and with the overwhelming sense that one of comedy's brightest flames had burned out far too soon.