One of the biggest stars of early horror films, English actor William Henry Pratt, was born in Camberwell, London, 130 years ago today, on November 23rd, 1887.
If you can't quite bring the name to mind, and wonder how anyone named 'Pratt' could strike terror into the hearts of millions of filmgoers, perhaps you might know him better by his stage name – Boris Karloff.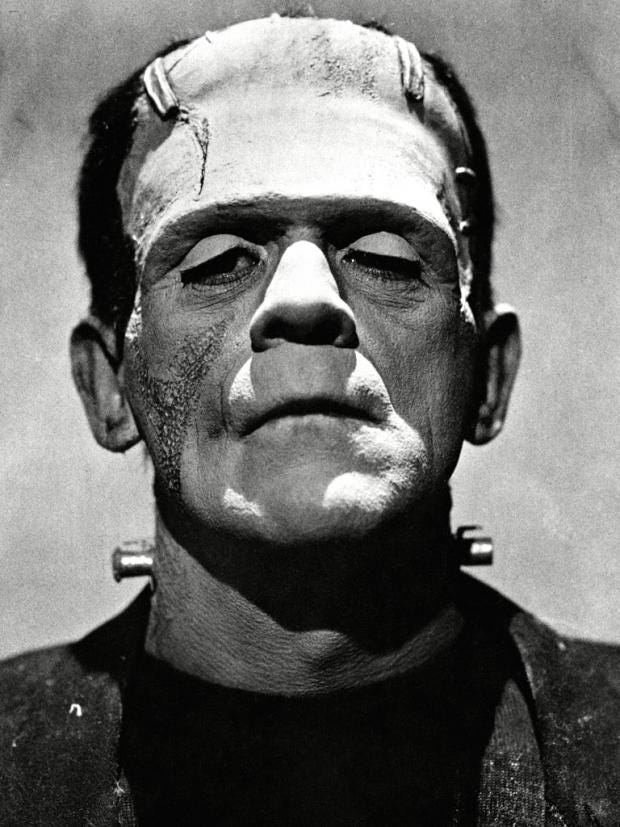 As a young boy growing up in Enfield, Middlesex, he appeared an unlikely film star, being bow-legged and speaking with a stutter and a lisp. The youngest of nine children, he was raised by his elder siblings following his mother's early death. A capable scholar, he attended King's College London, studying to enter the government's Consular Service, but grew disillusioned with the idea of life as a civil servant and left in 1909 before graduating.
Instead he boarded a ship for Canada, seeking adventure, and did various jobs before falling into acting in theatrical productions. It was around this time that he took the stage name of Boris Karloff, possibly to prevent embarrassment to his family, who were all dignified members of the British Foreign Service. Karloff worried that his brothers, one of whom was respected diplomat Sir Thomas Pratt, would consider him the black sheep of the family for becoming a lowly actor.
He used the alias throughout his career, but never officially changed his name, signing documents as "William H. Pratt, aka Boris Karloff". In the early years he toured with various small theatre companies performing in one-horse towns through Canada and the USA, often taking menial jobs to make ends meet. After several years learning his trade on the stage, he arrived in Hollywood just as it was becoming the centre for America's silent movie industry.
Over the next few years he appeared in dozens of silent films, but still had to supplement his income through manual labour, which left him with a bad back throughout his life. Gradually he began winning bigger roles, his heavy-set features, enhanced by make-up, meaning he was often cast as the exotic foreign villain. By the late 1920s he was gaining some recognition for his film roles, but it was the new craze for horror films which would make him one of cinema's first superstars.
His role as the monster in the 1931 classic "Frankenstein" propelled him to stardom and his heavily made-up image, with a bolt through his neck and lumbering along in four-inch platform boots which weighed 11lb each, remains the classic Frankenstein's monster. Although he continued to act in other genres, horror was now his forte, strengthened by roles including 1932's "The Mummy" and two Frankenstein sequels.
When Karloff returned to England for the first time in 1933 he was an international star and his fears of being shunned by his respectable family were very quickly dispelled. Instead they clamoured to be photographed alongside their famous brother!
Throughout the 1930s and '40s Karloff continued to appear in successful films, usually horror or thrillers, but also returned to the stage, although now on Broadway. He had long ago conquered his stutter and instead of his lisp being an impediment, he turned it into one of his trademarks. He also appeared several times alongside fellow horror film legend Bella Lugosi, the two becoming good friends.
Though by now a wealthy man, Karloff worked continuously, flitting between films, theatre roles and the radio. Even when his health began to suffer, he never lost the work ethic ingrained in him in the early years, when if he didn't work he didn't eat. By the 1960s he was appearing in British horror films, made by the likes of the Hammer film studio. Though these films were often low budget and churned out as quickly as possible, the presence of Karloff – a bona fide horror film legend – lent them some gravitas.
These films also enabled him to retire to England, living in a country cottage in the Hampshire village of Bramshott. He had married five times, but only had one child, a daughter, by his fourth wife. He married his fifth, Evelyn, in 1946, and remained with her for the rest of his life. In 1968 he contracted bronchitis and died of pneumonia in February 1969, at the age of 81.
A marker of his stardom is that Karloff has not one, but two, stars on the Hollywood Walk of Fame, recognising his pivotal contribution to both film and television. Conjure up in your mind an image of Frankenstein's monster and chances are the man behind the make-up will be one William Henry Pratt, aka Boris Karloff.