National No Smoking Day is being used to highlight the fact that 40% of smokers still incorrectly believe that nicotine causes cancer.
This is important because it means the majority of smokers (58%) still try to quit by going 'cold turkey' – without using any aids to quitting ­– which is known to be the least effective way and most likely to fail.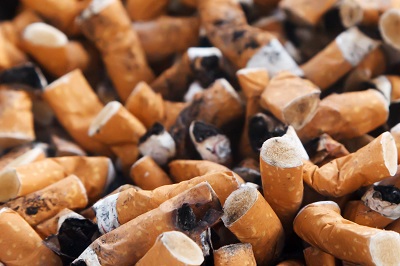 Nicotine is the ingredient in cigarettes which is addictive, leading to cravings and making it very hard to quit. But the nicotine itself carries a minimum health risk – instead it is the other deadly chemicals in cigarette smoke, including tar and carbon monoxide, which pose a huge danger to health.
This means people can be helped to quit smoking by using products which still contain nicotine but not the other harmful tars and toxins found in cigarettes. Examples include nicotine gum, nicotine patches and, increasing popular, electronic cigarettes, also known as 'e-cigs' or 'vaping'. The nicotine in these products will help manage the cravings, without the potentially lethal harm from cigarette smoke.
Using such products, especially in conjunction with help and support from a local 'stop smoking service', is proven to be far more effective than trying to go 'cold turkey', using willpower alone. Vaping, in particular, is helping hundreds of thousands of smokers to quit each year. Latest research shows that while it is not 100% safe, vaping is massively (at least 95%) less harmful than smoking cigarettes. Many vaping liquids contain nicotine but others do not, so ex-smokers can gradually wean themselves off the addictive substance by varying which liquids they use in their e-cigs.
Public Health England (PHE) used this year's National No Smoking Day (March 14th) to encourage smokers thinking of quitting to use these 'nicotine replacement therapies' (NRT) rather than trying to go 'cold turkey', as it will greatly increase their chances of success. In doing so it tackled the widely-held misconception that it is the nicotine in cigarettes which causes serious harm to health.
Its research found that just 7.5% of smokers realised that none or a very small part of the risk from smoking comes from nicotine, while an alarming 14% wrongly thought it was nearly all the risk. Almost a quarter (24.2%) just didn't know.
Other research highlighted by PHE shows that:
using NRT as a quit aid, such as patches and gums, or e-cigarettes makes it one-and-a-half times as likely you'll succeed.
your chances of quitting are doubled if using a stop smoking medicine prescribed by a GP, pharmacist or other health professional.
expert support from a local stop smoking service gives you the best chance of quitting successfully.
combining quit aids with expert support makes it four times as likely you'll stop smoking successfully.
Professor John Newton, Director of Health Improvement at PHE, said: "Misunderstanding about the risks from nicotine may be deterring smokers from using quit aids such as e-cigarettes or nicotine replacement therapies like patches and gums.
"Nicotine is addictive, but it's the many thousands of chemicals in tobacco smoke that are responsible for almost all of the harm caused by smoking. Using nicotine quit aids helps manage cravings and can be one of the solutions to helping you stop for good. Going 'cold turkey' is not recommended as it's the least successful way.
"To get the most benefit, make sure you use as much nicotine replacement as you need, and for as long as you need, as this will help you stop smoking and stay smokefree. Combining quit aids with support from a stop smoking service gives the best success rates. With the wide range of aids now available, there's never been a better time to stop."
• For more information on the support available to help you stop smoking, visit the NHS Smokefree website by clicking here.