Here in the UK, many people don't realise that Acorn Stairlifts is a global company and the world's biggest manufacturer and supplier of home stairlifts.
As well as installing stairlifts across the UK, we export to more than 80 countries, including our biggest overseas market, North America, where we are the leading supplier of home stairlifts. Although our American division operates more-or-less independently, all the Acorn Stairlifts it sells, installs and services are manufactured here in the UK at our factories in Yorkshire and Scotland.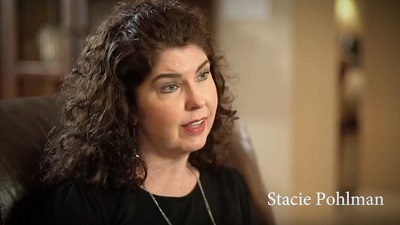 It means that every day, Acorn is giving people's lives a lift in many different countries. Somewhere in the world, an Acorn Stairlift is fitted every eight minutes. We also love to receive feedback from our overseas customers and this week brought a great example in "Stacie's Story".
After having her life transformed by her new Acorn Stairlift, young American mother-of-two Stacie Pohlman features in a moving and informative video telling her own story. She begins by telling how she was diagnosed in 2000 with 'lupus', an immune system illness which causes painful inflammation of joints and muscles, extreme tiredness and a range of other symptoms.
She was later diagnosed with arthritis and has suffered fractures in her feet. It has made it impossible for Stacie to use the stairs in her home, except by sitting on a low stair then pushing herself up backwards, one step at a time. This also causes pain in her hands and wrists, leading her to stop using the stairs altogether, isolating her on the ground floor.
"The biggest thing is that I miss tucking in my younger son Jonah at night," Stacie explains, adding that she also misses visiting her teenage son, Noah, in his room to spend time with him: "I miss my bed and I miss being able to pick my clothes out of my closet. I feel like I'm missing out… I'm not part of 'the circle' I guess. We brought a bed downstairs and I have my little room down here, but I'm cut off from the rest of the family."
Stacie explains how she fractured her foot in 2016 during a visit to her parents' home in Ohio. They had to bring her home because she couldn't drive, and soon grasped how her inability to use the stairs was damaging her home life. It was her father who called in Acorn to carry out a home survey and presentation, initially without Stacie knowing. Although impressed by the presentation, she resisted the idea of a stairlift because she felt she was too young to need one.
"It went against my parents' opinion that I needed the stairlift, my husband felt that I needed it, and even the doctors, so all of them felt I was making a poor choice," says Stacie. "I needed the stairlift, yet inside I wasn't willing to accept it."
But now, she concedes her reluctance, although understandable, had a negative impact on the family: "Looking back, I think that in 2016, that's when I really needed to have it installed and not waiting until now, two years later. I'm ready, because I've told myself that it doesn't matter about the age, it's more of a tool that you need to help you live a normal life and to help you be able to stay in your home and function as you normally would. If you have some kind of a condition that means you aren't able to go up your stairs, then the Acorn Stairlift is for you."
The video then shows Stacie's first ride on her newly-installed stairlift, with her family waiting to greet her at the top of the staircase. Having not been able to go upstairs for more than six months, it is evidently an emotional moment for Stacie.
Her teenage son, Noah, tells how the stairlift has made the family "whole again" by removing the barrier of the stairs, which too often left his mother isolated downstairs: "The stairlift was the gate that opened the way for us to re-establish that communication and connection," says Noah.
Stacie adds: "If I had gone ahead and had this installed a couple of years ago, it would have saved me a lot of heartache and stress, and the physical and mental pain that I went through because I had to be always thinking about the steps.
"I would say that if the thought crosses your mind, that if you have any issues with the steps and you're thinking of a stairlift, then you need to pursue it. If it's crossing your mind now, then it's really needed now, and if you wait and put it off you're going to lose time that is beneficial in your life, and you can't get that back."
● To watch Stacie's story for yourself, click here.