Too many older people are left to cope alone with depression following the death of their partner, because society assumes that bereavement in old age is "just how life goes".
That's according to a new report from older people's charity Independent Age, which is encouraging people to talk openly about death and bereavement to remove the stigma surrounding it.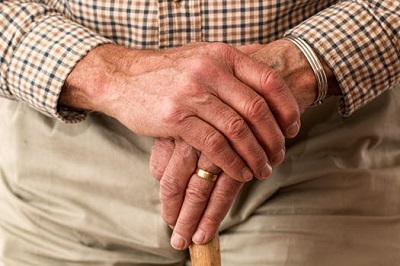 According to the report, older people who have experienced the death of a partner are up to four times more likely to experience depression than those who haven't. They are also more likely to have worse mental health due to bereavement than working age adults. Despite this, they are less likely to be referred for bereavement support than younger bereaved people.
Entitled "Good grief: Older people's experiences of partner bereavement", the report examines the impact of the death of a partner on older people, and the importance of talking about it and receiving support. Other findings include:
Older people who felt their partner didn't have a 'good death' find it more difficult to cope with their grief
Some of the physical effects of grief, such as having a weakened immune system, only affect people aged 65 and over, putting them at greater risk of ill health or even death in the months following a bereavement
An older person whose partner has died is more likely to die in the following three months
People with 'complicated grief' are twice as likely to die by suicide than bereaved people without complicated grief, and complicated grief is twice as common for older people than for bereaved working age adults
Women's household incomes typically fall after the death of their partner, while men tend to see their incomes increase.
Every year in England, 192,000 older people are newly bereaved. Of this number, more than 106,000 will experience the onset of depression, projected to increase to more than 161,000 by 2039. There is evidence that older people benefit more than working age adults from psychological therapies, yet they are less likely to be referred for bereavement support.
In fact, fewer than one in five people aged 65 and over have received bereavement counselling. The key reason for this seems to be that many older people and their families see the death of a partner as "just how life goes", rather than a traumatic event for which the surviving partner will need support to cope.
This means many older people find it much harder to get access to support such as counselling or therapy (often not even being told it's an option) and may feel less deserving of it. There is also a heavy reliance on informal support from family and friends, which means those without family and friends might not get any support at all.
Independent Age is calling for one body that regularly comes into contact with bereaved older people (for example, funeral directors) to be responsible for providing information about services and support following the death of a partner or close family member. The charity wants every older person who experiences bereavement to be fully aware of the support options available and to be able to access the type of support with which they feel most comfortable.
Janet Morrison, Chief Executive of Independent Age, said: "The death of a partner in older age can be a devastating life event, with emotional, financial and practical impacts for the bereaved person. Bereavement in older age can lead to loneliness and an increased likelihood of depression, and it is appalling that older bereaved people aren't being offered the support and access to services that could make a huge difference to their wellbeing.
"There must be a consistent approach to offering bereavement support across the country, so older people who need them can access services that can help them deal with death in their own way."
According to the report, seven out of 10 people (of all ages) say they are comfortable talking about death, but fewer than one in four actually do it. The charity wants more work done to remove the stigma from talking about death and bereavement. It has information and advice available on end-of-life planning, having difficult conversations, and coping with bereavement. To find out more, visit the charity's website by clicking here or call its free helpline on 0800 319 6789.