Remember the angelic-faced child star of "Oliver!", one of the most successful movie musicals of all time? Well today we wish him a happy 60th birthday!
Mark Lester, who starred alongside Ron Moody, Harry Secombe and Oliver Reed in the big screen adaptation of Lionel Bart's hit stage musical, was born in Oxford on June 11th, 1958. His father Michael Lester (originally Letzer) was an actor and producer, while his mother, Rita, was an actress.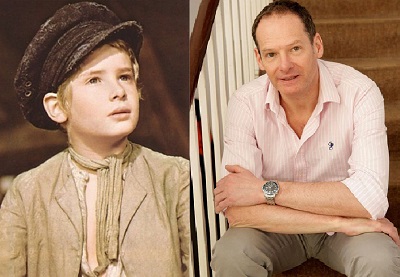 Educated at three independent schools in London and Surrey, he began appearing in child roles in TV and film from the age of five or six. Early TV appearances included episodes of "Danger Man" and "The Human Jungle" and he had small film roles in "The Counterfeit Constable" and "Fahrenheit 451".
His breakthrough came in 1967 when, at the age of eight, he was cast in the title role of "Oliver!", directed by Carol Reed. He was chosen on his acting ability and looks alone, since he could not sing. Instead his singing was dubbed by Kathe Green (daughter of the film's musical arranger Johnny Green) who was 23 at the time.
During filming for the lavish production, Lester became good friends with his co-star, Jack Wild, who played The Artful Dodger. Although Wild was almost six years older and came from a very different working class background in Lancashire, the two were inseparable on set, with Lester describing him as a "long lost brother". Their friendship lasted many years, although Wild later had well-publicised problems with alcoholism and died in 2006, aged 53.
Following its release in 1968, "Oliver!" enjoyed unprecedented success, nominated for 11 Oscars and winning six, including 'Best Picture'. It catapulted Lester into the limelight and brought new roles for the young star, who was still only 10. In 1969 his portrayal of a withdrawn and dysfunctional child in the film "Run Wild, Run Free", opposite John Mills, was well received. In the same year he appeared in the first episode of American adventure TV series "Then Came Bronson" and the following year starred in film drama "Eyewitness" alongside Susan George and Lionel Jeffries.
In 1971 he was reunited with Jack Wild in the film "S.W.A.L.K" which, although a box office flop in the UK and USA, was a huge hit in Japan and some Latin American countries. It opened up new avenues in foreign films and he had roles in several produced in Italy, including crime thriller "Redneck", with Telly Savalas, and "Scalawag", a spaghetti western reworking of Treasure Island with Kirk Douglas in the lead role.
By then in his late teens, Lester found the transition from child actor to more adult roles increasingly difficult. His final film was 1977's "The Prince and the Pauper", playing the dual role of Prince Edward VI and pauper Tom Canty. The film reunited him with Oliver Reed, who played Bill Sikes in "Oliver!".
At the age of 18, Lester gained access to some of his considerable earnings from film and TV work and initially went on a spending spree, buying a house in fashionable Belgravia, a Ferrari sports car and attending parties, nightclubs and restaurants, often paying for friends and hangers-on. Thankfully he came to his senses and when "The Prince and the Pauper" was poorly received by critics and filmgoers, he decided to give up acting at the age of 19 and instead take his A Levels.
In his twenties he took up karate, progressing to the grade of black belt and gaining an interest in the treatment of sports injuries, studying at the British School of Osteopathy. He qualified as an osteopath at the age of 28 and has practised successfully for many years, also opening his own acupuncture clinic in Cheltenham in 1993.
That was the year he married his first wife, Jane, and the couple had four children together before divorcing in 2005. The following year he married his second wife, Lisa, a psychiatric nurse. He is also godfather to the three children of American popstar Michael Jackson, who was close friends with Lester until his sudden death in 2009. While no longer directly involved in showbusiness, Mark Lester is a patron of theatre charity "The Musical Hall Guild of Great Britain and America".