Drivers across the UK are being urged to informally test their own eyesight to make sure it still meets the standards required to pass the driving test.
The DVLA (Driver and Vehicle Licensing Agency) has launched a new awareness campaign encouraging people to take a quick and easy 'number plate test' to check their eyesight is still up to scratch. The campaign is especially aimed at older drivers, who might have taken their test many years ago and whose eyesight could have deteriorated in the years since.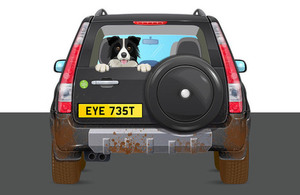 Anyone taking their driving test today must be able to read a car number plate from a distance of 20 metres (65 feet). It is part of the practical element of the driving test and anyone unable to do so will not pass the test. Obviously, if you wear glasses of contact lenses for distance, then you should wear them for the test (and whenever you are driving).
But according to a new survey by the DVLA, half of the motorists questioned were not aware of the minimum eyesight standards needed for a licence, or the legal obligation on them to ensure they still meet those standards. In other words, passing the eyesight test is not a one-off thing as part of your driving test – instead you should regularly self-check that you can still clearly read at number plate 20 metres away.
The awareness campaign, which will run throughout the summer, encourages all UK drivers to check they can still pass the '20-metre test'. One problem is that many people struggle to judge exactly how far 20 metres is. As a rough guide, the DVLA advises that it is about 26 steps for a man and about 33 steps for a woman. It is also about five car lengths, or the width of eight parking bays in most car parks.
Once you've identified a car about 20 metres away, make sure you can clearly read its number plate. Try the test in different visibility conditions and at different times of day – for example, it can be much harder at dusk – and get into the habit of doing it regularly, such as when you're in the supermarket car park. If you find it difficult to read the number plate you should visit your optician.
According to the DVLA, there are currently 48 million registered drivers in the UK, but its new survey suggests only around half realise it is their responsibility to regularly self-check their eyesight is good enough for safe driving. Last year the Association of Optometrists called for all drivers to have compulsory eye tests every 10 years, but so far the Government has resisted calls for compulsory testing.
Drivers over the age of 70 are legally obliged to make a declaration every three years stating that they are fit to drive, but there is no requirement for them to pass a medical or eyesight test in order to self-declare.
Dr Wynn Parry, the DVLA's senior doctor, said: "The number plate test is a simple and effective way for people to check their eyesight meets the required standards for driving.
"The easiest and quickest way to do this is to work out what 20 metres looks like at the roadside – this is typically about the length of five cars parked end to end – and then test yourself on whether you can clearly read the number plate. It's an easy check to perform any time of day at the roadside and takes just a couple of seconds.
"Having good eyesight is essential for safe driving, so it's really important for drivers to have regular eye tests. Eyesight can naturally deteriorate over time so anyone concerned about their eyesight should visit their optician – don't wait for your next check-up."
● You can read the official UK 'driving eyesight rules' in full by clicking here.