Today we wish a happy 88th birthday to one of the most familiar faces on British TV in the 1980s and '90s, the inimitable Windsor Davies.
Still best remembered as the perpetually twitching and bellowing Battery Sergeant Major Tudor Bryn Williams in the classic sitcom "It Ain't Half Hot Mum", Davies enjoyed a varied career in TV, radio and film for over four decades.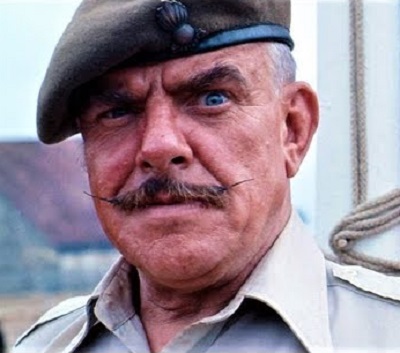 Many people assume he is Welsh by birth, but in fact he was born in Canning Town, London, to Welsh parents on August 28th, 1930. The family returned to their home village of Nant-y-Moel, in South Wales, in 1939, at the outbreak of the Second World War. An able scholar, Davies studied at Ogmore Grammar School before moving on to Bangor Teacher Training College.
He worked briefly as a coal miner before obtaining his first teaching post at a boys' school in Leek, Staffordshire. National Service beckoned from 1950 to '52, serving with the East Surrey Regiment, including periods in Libya and Egypt. Returning to teaching, he developed an interest in acting and appeared in a string of amateur productions before deciding to make a career of it.
In 1961 and now in his thirties, he enrolled on a drama course at Richmond College and made his first screen appearance the following year, playing a police constable in an obscure British comedy, "The Pot Carriers". With distinctive looks, a memorable voice and a natural talent for comedy, other TV and film roles soon followed, including several appearances in "Dixon of Dock Green", "Z Cars" and "The Onedin Line" between 1965 and 1974.
In 1972 he appeared in "Adolf Hitler: My Part in His Downfall", based on the book by Spike Milligan. He was cast as a sergeant in the Highland Regiment, a role that seemed tailor-made for his looks and military bearing. It no doubt helped him win his breakthrough role as Bombastic Sgt Maj. Williams in "It Ain't Half Hot Mum", although it was first offered to Leonard Rossiter, who turned it down. Now it is impossible to imagine anyone other than Windsor Davies in that iconic role.
He played the part through eight series spread across seven years and was the show's standout performer, with catchphrases including the ear-splitting "Shut up!" and the dry and sardonic "Oh dear, how sad, never mind". Before winning the part, Davies had considered giving up acting as he was 'odd-jobbing' from one minor role to the next. In one interview years later he described "It Ain't Half Hot Mum" as "my saviour", but added wryly: "It saved me from becoming a great actor."
There was some truth in that, for while it was undoubtedly his career defining role, it also led to typecasting in 'sergeant major'-type roles, which eclipsed his wider potential. The show also brought an unforgettable comedy partnership with diminutive actor and singer Don Estelle, who played Gunner 'Lofty' Sugden. Though he mercilessly mocked the 4ft 9ins Lofty and usually chose him as a 'volunteer' for any dangerous or unpleasant task, the habitually hard-hearted Sgt Major could be reduced almost to tears by Lofty's magnificent tenor singing voice.
Their partnership brought a chart-topping hit in 1975 when Davies and Estelle performed a semi-comic version of "Whispering Grass" in character as Lofty and Sgt Maj. Williams. They also recorded an LP together, "Sing Lofty", which made the top 10 in the album charts on its release in 1976. Throughout his years on the show, Davies continued to work on other projects, including two of the later "Carry On" films – "Carry on Behind" and "Carry On England" – once again playing a sergeant major in the latter. In 1978 he had a main role in the BBC Wales rugby-comedy film "Grand Slam", which developed a cult following and is regularly repeated in Wales.
When "It Ain't Half Hot Mum" ended in 1981, Davies was cast in another long-running and popular sitcom, playing antique dealer Oliver Smallbridge opposite Donald Sinden in "Never the Twain". It kept him regularly on TV screens throughout the '80s, as well as appearances in other TV dramas and films. Even when not seen on screen, his rich, deep and distinctive voice was often heard, either on radio or in advertising. He even auditioned as the voice of the UK's speaking clock in 1984, but that was one part he didn't get.
For younger viewers, he was the voice of Sgt Maj. Zero, a spherical robotic soldier in the Gerry Anderson puppet series "Terrahawks", which ran for three years. For anyone wanting the ultimate 'sergeant major' character, Davies had become the 'go to actor', but it limited his range. In the 1990s, with Davies now in his 60s, roles became less frequent, although he gave an outstanding performance in the BBC's seminal 1999 production of Mervyn Peake's "Gormenghast".
Davies continued to make occasional TV appearances into the new millennium, including in "Casualty" and sitcom "My Family", but after more than 40 years in the business he decided to call it a day. Now retired, he lives in the south of France and we join with his many fans in wishing him a very happy birthday.
● Click here to see Windsor Davies and Don Estelle perform their 1975 hit "Whispering Grass".