Routine screening for bowel cancer will in future be offered to everyone in England from the age of 50 to improve early diagnosis rates and successful treatment outcomes.
Currently, men and women aged from 60 to 74 are invited for bowel screening and sent a home testing kit every two years. It enables them to provide stool samples which are then sent off for expert analysis.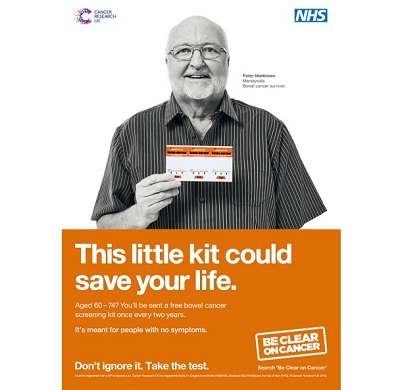 Following improvements to the home testing kit and a comprehensive review of the evidence, the UK's National Screening Committee has now recommended starting routine testing 10 years earlier, from the age of 50, to further improve health outcomes and save more lives. As with most health conditions, early diagnosis for bowel cancer increases the treatment options available and greatly improves the long-term prognosis.
Government Ministers have agreed to the recommendation from the independent screening committee, with NHS England and Public Health England now working on the transition process towards lowering the screening age as part of the NHS Long Term Plan.
The new and improved home testing kit is called 'FIT', which stands for 'faecal immunochemical testing'. After successful pilot schemes it is due to be rolled out nationally this autumn, initially to people in the current 60 to 74 age range. The FIT kit is sent in the post every two years and is both easier to use than the previous test and more accurate in detecting potential cancers.
The current bowel screening programme also has a complementary 'bowel scope' procedure, which is a one-off test offered to men and women at the age of 55. The committee recommends maintaining bowel scope screening in England until the new FIT home test is being routinely offered to the same age group.
Professor Anne Mackie, Director of Screening at Public Health England, said: "The risk of bowel cancer rises steeply from around age 50 to 54 and rates are significantly higher among males than females. Starting screening 10 years earlier at 50 will help spot more abnormalities at an early stage that could develop into bowel cancer if not detected.
"The committee recognises that this change will take time, but wants the FIT test to be offered to all aged 60 and over as soon as possible, and options considered for a rollout plan where screening can be offered at 55 and eventually to all aged 50 – ensuring we have the best bowel screening programme possible."
Public Health Minister Steve Brine added: "We are determined to make our cancer survival rates the best in the world. With the rollout of FIT as a new bowel screening test from the autumn – a much more convenient and reliable test – we have a real opportunity to reshape our bowel screening programme and potentially detect the stages of bowel cancer much earlier.
"We are now considering opportunities and taking expert advice on how a sustainable, optimal bowel cancer screening programme starting at age 50 can work in the future."
The committee also looked at screening for chronic obstructive pulmonary disease (COPD), which is a group of lung conditions, including emphysema, that cause breathing difficulties. It recommended that screening should not be offered for a number of reasons, including a lack of evidence that the screening for COPD would have a positive impact on smoking cessation rates. As part of a regular review process, these recommendations will be looked at again in three years, or earlier if significant new evidence becomes available.