Only last month, TV news programmes were filled with distressing scenes of monsoon floods in India's southern state of Kerala, which left hundreds dead and hundreds of thousands homeless, but the phenomenon is nothing new.
Forty years ago today, in 1978, it was northern India which was struggling to cope with the worst floods in living memory. Monsoon downpours left some parts of the state of West Bengal 18 feet under water, with at least two million people being made homeless by the rising floodwaters.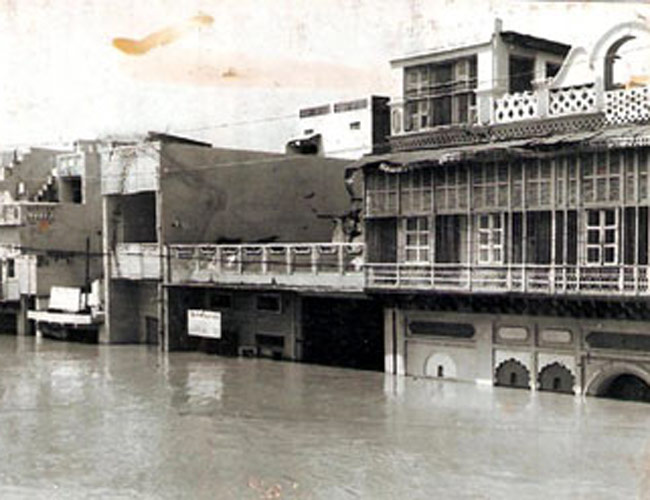 The Yamuna river ­– the longest and second largest tributary of the Ganges – rose six feet above its official 'safe level' in a matter of hours, causing thousands of families to flee for higher ground. The holy city of Benares (now called Varansi), which sits on the banks of the Ganges in the state of Uttar Pradesh, was almost completely destroyed. New Delhi was also badly affected, with at least 250,000 residents forced to abandon their homes and seek shelter elsewhere.
Roads and buildings were swept away and most of the region's infrastructure was destroyed as overhead electricity and telephone lines were brought down. It was estimated that up to 15 million people in West Bengal were directly affected by the natural disaster. While most were able to escape the rising waters, the death toll was estimated at more than 2,000, with the elderly and very young most at risk from the deep and fast moving floodwater.
Livestock were also killed and most of the region's crops were washed away, causing fears for its longer-term prospects even after the floods began to subside. There was also growing concern that diseases such as typhoid and cholera could cause many more deaths in the wake of the flooding, as fresh water supplies had been widely contaminated and much of the region's medical network was in disarray and struggling to cope.
The chief minister of West Bengal declared it one of the gravest disasters ever to hit the state and appealed for outside help. The Indian Air Force was already working to transport essential supplies and medical services to the worst-hit areas. Several international aid agencies and foreign governments also became involved in the relief effort as the vast scale of the disaster became more widely known.
When the floodwaters subsided, people returned to their devastated homes and began rebuilding their lives, all the time hoping that when the monsoons returned, they would not be as bad or would be at their worst elsewhere. It was 22 years before the rivers in northern India reached similar levels, in August 2000. Once again, the damage and loss of life was widespread, but for most life carried on.
Varansi, the city which was virtually destroyed by the 1978 floods, is now home to around 1.4 million people. Around 150,000 of them live in areas classed as slums and most vulnerable to flooding during the monsoon season. As well as being the holiest of seven sacred cities in Hinduism, Varansi is known for its silk weaving and is an increasingly important tourist destination, both for native Indians and foreign visitors.