Labour Prime Minister James Callaghan was accused of running scared when he announced 40 years ago today that there would not be an autumn General Election.
Mr Callaghan (pictured), who had been in office for two-and-a-half years, was under pressure to go to the polls. He had taken over as Labour leader from Harold Wilson in April 1976, but he led a minority government unable to force through its policies in Parliament without the support of other parties.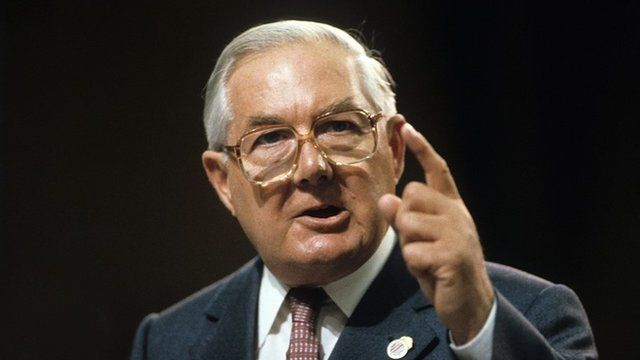 Both his political opponents and many in his own party urged him to call a General Election and, with Labour slightly ahead in the polls, it was widely expected he would do so in the autumn of 1978. A nationwide TV broadcast was scheduled for September 7th and many people thought he would use it to announce a date for the election.
Instead he surprised viewers by telling them his government would continue in power for a fifth and final year. Five years is the maximum term that a UK government can remain in power before calling an election.
Justifying his decision, Mr Callaghan said the country would not be served by having an autumn election, but failed to explain why. He admitted Britain faced domestic problems, but said an election would not bring an instant solution. Instead people should keep faith with his government and its policies, which needed more time to work.
His opponents – Conservative leader Margaret Thatcher and Liberal leader David Steele ­– seized on the broadcast, both accusing Mr Callaghan and his party of running away from a fight they knew they would lose. He was, they said, only putting off the inevitable.
"The real reason he isn't having an election is because he thinks he'll lose," said a confident Mrs Thatcher who, as the first female leader of the Conservatives Party, represented a big change in national politics. Speaking in Lichfield, she branded members of the Labour government "chickens".
Meanwhile, Liberal leader Mr Steele said the broadcast was "quite astounding" and that the country was due for a change: "This Parliament is four years old and to breathe new life into it we must have an election," he said.
He also confirmed what many political commentators already suspected ­­– that a previous Liberal-Labour pact, formed to help the government tackle rising inflation, was now at an end. Without the support of Liberal MPs in the House of Commons, the Labour government was effectively a 'lame duck', unable to pass legislation.
It wasn't just the politicians who were disappointed at Mr Callaghan's statement; the reaction from the country was also largely negative. In truth, Mr Callaghan's government was doomed, although it would stagger on for another seven months. The winter of 1978-79 was plagued by widespread industrial action over the government's unpopular pay policy, designed to halt inflation.
Soon dubbed the "Winter of Discontent", it impacted heavily on ordinary people through food shortages, power cuts, uncollected rubbish piling up in the streets and disruptions to public transport. Even the gravediggers went on strike, meaning that in some areas people could not bury their deceased loved ones. It all served to make the Government more unpopular and on March 28th, 1979, it lost a crucial vote of no confidence in the House of Commons.
Mr Callaghan was then obliged to call a General Election, set for May 3rd, 1979, which was won by Mrs Thatcher's Conservatives, gaining a 43 seat majority in Parliament. She would remain as Prime Minister for the next eleven-and-a-half years, winning two more elections and becoming the longest-serving Prime Minister of the 20th century.
Following the 1979 election defeat, Mr Callaghan remained as Labour Party leader for another 18 months before resigning in November 1980, replaced by Michael Foot. He then served as a backbencher until standing down at the 1987 general election after 42 years as an MP.
Soon afterwards, he was elevated to the House of Lords as Barron Callaghan of Cardiff. He remained active in politics until his death in March 2005, the day before his 93rd birthday and just 11 days after the death of his wife of 67 years.