A new flu vaccine will be available this autumn, specifically designed to be more effective for people aged 65 and over.
Flu is far more dangerous in old age, yet the effectiveness of flu jabs also declines as people get older. The flu virus is also continually changing and scientists have to predict ahead of time what strain will be dominant in the coming year and which vaccine will offer the best protection against it.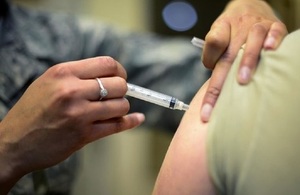 Last year the flu vaccine proved effective in just one in ten cases in the vulnerable over-65s age group, but this year's new "adjuvanted vaccine" should significantly improve that situation. According to Public Health England (PHE), it has the potential to prevent more than 700 hospital deaths from flu this winter.
It could also reduce GP consultations by 30,000 and hospitalisations by more than 2,000, massively easing the 'flu season' burden on the NHS in England. The vaccine will also be offered to over-65s in Wales and Northern Ireland and to over-75s in Scotland.
The adjuvanted vaccine is more effective in over-65s because it improves the body's own immune response to the vaccine. This is important because, typically, older people's bodies do not respond as well to the flu vaccine due to their naturally weaker immune systems. Older people are also more likely to suffer complications from flu.
Professor Paul Cosford, Medical Director at PHE, said: "Flu is potentially a very serious illness, and we know adults over 65 are more likely to catch and have complications from flu and so have the most to gain from an improved vaccine. By introducing an enhanced flu vaccine for this age group, they will be better protected as well as helping to reduce the spread of flu to those around them."
Free vaccinations are also offered to other 'at risk' groups, including adults with a range of long-term health conditions, pregnant women, carers and health and social care workers. People under 65 and in these 'at risk' groups will this year be offered a "quadrivalent" vaccine in injected form. This protects against four common strains of flu – two strains of 'flu A' and two of 'flu B'.
Infants aged two and three and schoolchildren in reception years one to five are also offered a free vaccination in nasal spray form. Extending the free vaccination programme to include Year Five means an extra 650,000 children will be included this year and the programme will eventually roll out to all primary school children.
When this happens, evidence suggests that an additional 63,000 GP consultations could be prevented each year. Due to having typically poorer hand hygiene than adults, children tend to be 'super-spreaders' of flu, so protecting them is crucial for protecting the rest of the population.
Professor Cosford added: "Further protection will be gained by offering flu vaccine to more children this year and giving a vaccine that provides protection against four strains of flu to all eligible people under the age of 65. We encourage everyone who is eligible to get the flu vaccine from their General Practice or pharmacy before the end of November."
PHE's annual flu jab awareness campaign will launch on October 8th to tie in with the new vaccine becoming available. Eligible adults are encouraged to get their free vaccine from their local General Practice or pharmacy before the end of November to protect themselves and their families before flu reaches its seasonal peak.
Chief Medical Officer Professor Dame Sally Davies said: "Getting the flu vaccine is the single best way to protect yourself against this potentially fatal illness, and this year the NHS is offering it to 24 million people across the country. I strongly encourage everyone in vulnerable groups to get the life-saving vaccine as we head into winter."
As well as getting the vaccine, practising good hand hygiene by catching coughs and sneezes in a tissue, throwing it away and washing your hands afterwards can help limit its spread. This message will again be promoted this year through the "catch it, bin it, kill it" slogan.