Doctors working in outpatient clinics should write direct to their patient following a consultation in a way that is straightforward, easy to understand and which avoids medical jargon.
That's the advice of the Academy of Medical Royal Colleges (AMRC), which has published new guidance for hospital doctors aimed at improving communication between them and their patients.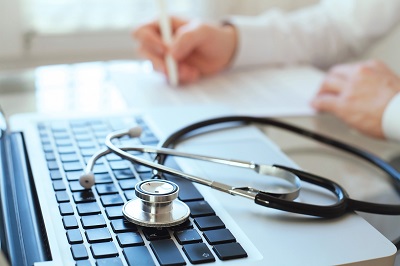 Currently, when a patient is referred by their GP to an outpatient clinic (probably at the local hospital) the doctor at the clinic will usually follow-up by writing to the GP, sometimes with a copy of the letter to the patient. Because the communication is between two doctors, it is often filled with medical terminology which the patient might struggle to understand.
Instead the AMRC guidance suggests the hospital doctor should write direct to the patient, with a copy of the letter going to their GP. Because the letter is going to the patient, it should be clear and avoid medical jargon or archaic Latin terms which the layman will not understand. This system strengthens the doctor-patient relationship, keeps the patient fully informed about their condition and treatment, and helps them cope better with what is happening to them.
According to the AMRC, there are more than five million outpatient visits per month in England alone, making outpatient clinic follow-up letters the most written letters in the NHS. It says these letters should routinely be sent direct to the patients and do three main things:
Record relevant facts about the patient's health and wellbeing
Present information in a clear way that improves understanding
Communicate a management plan going forward to the patient and the GP.
The guidance document accepts that some doctors might find it difficult at first to make the change, but adds that: "Doctors who have adopted the practice say their communication style has become more patient-centred. GPs find the letters easier to understand and spend less time interpreting the contents for the patient. Most importantly, patients find such letters more informative, supportive and useful."
The guidance goes on to outline in depth how doctors should write clearly to their patients, giving examples of best practice. It suggests that the skill of writing clear letters to patients should be part of the training for new doctors, but also encourages individual NHS Trusts to develop their own systems which work best for them.
In particular, the guidance says that letters to patients should avoid medical jargon and clinical terminology and instead use everyday words which most people understand. For example, most people thing that 'chronic' means 'severe', but its medical meaning is 'long-term or persistent', so doctors should use those words instead to avoid confusion and misunderstanding. Other examples of medical terms and the words which could replace them include:
Renal = kidney
Pulmonary = lung
Hepatic = kidney
Cerebral = brain
Acute = sudden or short-term
Oedema = swelling or fluid
Seizure = fit
The new guidance has already won the backing of the Royal College of GPs. Its vice-chairman, Professor Kamila Hawthorne, said: "As healthcare professionals, patients are at the heart of everything we do, and that extends into the way we communicate with them – whether face to face, or remotely.
"When were all so busy, it's easy to use language we're most familiar with as doctors, and other forms of shorthand and jargon that might even be difficult for doctors working in one specialty to understand from doctors working in another, so for patients it could be really confusing.
"By hospital doctors writing any letters directly to patients – with their GP copied in so we are always aware of what is happening regarding our patient's care – it should make the process more patient-centred, and make them feel more involved in their care, which will be beneficial for everyone."
● You can read the guidance document in full by clicking here.