A century ago today was a pivotal day in the life of Henry Tandey, a 27-year-old private in the 5th Battalion Duke of Wellington's (West Riding) Regiment, serving in France in the final months of the First World War.
Two events that day would be significant throughout the rest of Private Tandey's life; firstly, he won the Victoria Cross, Britain's highest award for gallantry in the face of the enemy, and secondly, he might have spared the life of a young German soldier called Adolf Hitler.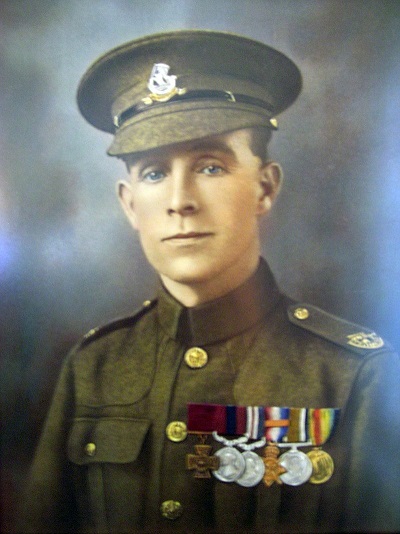 Born in Warwickshire in August 1891, Tandey (pictured) joined the army in 1910 after a difficult childhood, spent partly in an orphanage. By 1918 he was an experienced and capable soldier, having fought in some of the Great War's major battles and been wounded twice, first at the Somme and again at Passchendaele.
His bravery in the face of the enemy was well-documented in the regiment and he had been mentioned in dispatches several times. In late August 1918 he led a three-man bombing party under heavy fire across open ground and into an enemy trench, securing vital positions and returning with 20 prisoners. Just two weeks later he rescued several wounded men before again leading a bombing part into German trenches and capturing prisoners.
For the first action he was later awarded the Distinguished Conduct Medal and for the second the Military Medal, but more was to come. On September 28th, 1918, he was involved in a counter-attack trying to cross the Canal du Nord at the town of Marcoing in Northern France. When his platoon was halted by heavy machine gun fire, it was Tandey who crawled forward to locate the gun position.
Having done so he led a small group of men armed with a Lewis gun into a house from where they could fire on the German machine gun and eliminate the threat. When they reached the canal it was obvious that several planks were missing from part of the bridge, which would have slowed the platoon's progress and left it dangerously exposed to enemy fire. Under heavy and accurate machine gun fire, Private Tandey crawled forward and replaced the vital planks, enabling his comrades to rush the bridge.
Later that evening, Tandey and eight comrades found themselves surrounded and heavily outnumbered by enemy troops. Despite having suffered two nasty wounds, Tandey led a daring and audacious bayonet charge, surprising the enemy so much that 37 of them were driven into the British lines and captured. Despite his wounds, Tandey refused to leave until the fight was won, only reaching hospital some six days later.
For his actions on September 28th, Tandey was recommended for the Victoria Cross, which was approved in mid-December 1918, more than a month after the war ended. It was many years later that stories of another incident on that fateful day began to emerge and which would also impact on Tandey's post-war life.
At some point during the day's fighting, a weary German soldier staggered into Tandey's line of fire. Aiming his gun at the man, Tandey saw that he was wounded and offering no fight, and so decided to spare him. Seeing Tandey lower his rifle, the German nodded his thanks and made for cover. In 1938, the year before the outbreak of the Second World War, German dictator Adolf Hitler told British Prime Minister Neville Chamberlain that he had been the young soldier spared by Tandey.
The story goes that Hitler, at that time a 29-year-old lance corporal in the Bavarian Army, had seen a newspaper report about Tandey being awarded the VC for his heroism at Macoing and recognised him as the soldier who had him in his sights. He was so sure that he kept the newspaper clipping. Years later, Hitler was made aware of a painting by Italian artist Fortunino Matania.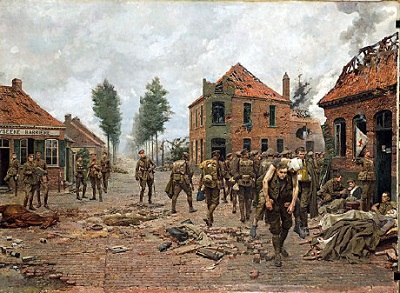 Commissioned by Tandey's original regiment, the Green Howards, the painting (right) showed a British soldier (purported to be Tandey) carrying a wounded comrade at a crossroads near Menin in 1914. The painting was made from a contemporary sketch of actual events, rather than invented by the artist.
Hitler obtained a copy and hung it at the Berghof, his retreat in the Bavarian Alps. British Prime Minister Neville Chamberlain visited him there in 1938 for talks aimed at averting war. During the visit, Hitler showed Chamberlain the painting and, pointing to the figure supposed to be Tandey, told him: "That man came so near to killing me that I thought I should never see Germany again. Providence saved me from such devilishly accurate fire as those English boys were aiming at us."
He went on to relay the story in full, even asking Chamberlain to telephone Tandey on his return to England to pass on his best wishes and gratitude. Whether it really was Tandey who encountered Hitler and spared his life 100 years ago today remains in question. Historical research has thrown up several possible holes in the story and it could be that Hitler invented it to bolster his own 'legend', not least because Tandy was the most decorated private soldier of the First Word War.
When Tandey himself was asked about it (shortly after his home was bombed in the Coventry Blitz in 1940), he couldn't recall specific details of the alleged encounter – one of many such incidents during his wartime service – but agreed it could have happened. He could only say that if it had been Hitler, he had no way then of seeing the future. He told a reporter: "If only I had known what he would turn out to be. When I saw all the people and women and children he had killed and wounded I was sorry to God I let him go."
Tandey remained in the army until 1926 and later served for 38 years as a Police Sergeant at the Standard Triumph works in Coventry. Although he married, he and his wife, Edith, never had children and he died in 1977 at the age of 86. His ashes were buried at the British Cemetery in Marcoing, where so many of his young comrades fell, and his medals are displayed at the Green Howards Regimental Museum, in Richmond, North Yorkshire.