One of the biggest football stars of the 1970s and a living legend at West Ham United, where he spent his whole playing career, was born 70 years ago today.
Trevor Brooking made 528 senior appearances for West Ham, the club he signed for on leaving school, in a playing career that lasted from 1966 to 1984. He also turned out 47 times for the England squad between 1974 and 1982, scoring five goals.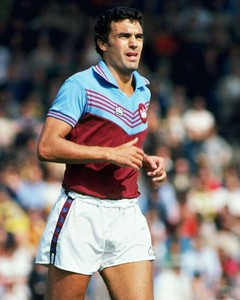 Born in Barking and the son of a police officer in the Met, Brooking saw his first professional football match at the age of nine, when his father took him to watch West Ham at home to Liverpool. His own skills on the football field developed at Ilford County High School and by 15 he had trained with Tottenham and Chelsea and been scouted by West Ham.
All three clubs offered him apprenticeships, with Chelsea manager Tommy Docherty even offering his parents £500 in cash and a car to secure a signing, so impressed was he with the young player. Despite the temptation, his parents knew a career in football could be short-lived and that their son would need qualifications to fall back on.
Of the three interested clubs, only West Ham would allow him to stay on at school to finish his studies before joining the club. And so it was that when young Trevor Brooking left school in the summer of 1965 with 11-levels and two A-levels under his belt, his next port of call was Upton Park, home of the Hammers. His parents received no fee when he signed the apprenticeship deal with manager Ron Greenwood.
Brooking made his senior team debut for the club in August 1967, playing Burnley away at Turf Moor in a 3-3 draw. His first goal for the club came during its Boxing Day fixture in 1967, a 4-2 win away at Leicester City. In his first full season with West Ham he played 28 games, scoring nine goals. His only hat-trick came during the 1968 season, when West Ham travelled to Newcastle and beat the home team 5-0.
During his third season, in 1969, Brooking suffered a setback when he chipped a bone in his ankle. His recovery took longer than expected and briefly threatened his place at the club, but when Martin Peters left for Tottenham in March 1970, Brooking became a regular in midfield. At the end of the 1971-72 season he was voted the club's 'Hammer of the Year'.
The following season Derby County manager Brian Clough offered £400,000 to sign Brooking and his teammate Bobby Moore, but West Ham manager Greenwood refused to let the pair leave. In 1974, rival London club Tottenham offered £425,000 for Brooking alone, but this also came to nothing. Brooking won the FA Cup with West Ham twice, in 1975 and 1980, scoring decisive goals during both cup campaigns, including the only goal – a header – in the 1980 final against Arsenal.
By now Brooking was also making regular appearances for his national team, making his England debut on April 3rd, 1974. Although he won 47 England caps, he only appeared twice in major tournaments. At the 1980 European Championships in Italy he played in two of the tree group matches, but England failed to advance further.
At the 1982 World Cup he was recovering from injury and only came on as a substitute for the last half-hour of England's 0-0 draw against Spain, which saw them eliminated from the competition. It would be his last international appearance, while his final domestic appearance for West Ham came on May 18th, 1984. In total he played at both junior and senior level for the Hammers 647 times, scoring 102 goals. Rarely booked or sent off, he was known as one of the gentlemen of the game.
After retiring from playing, Brooking had two short but largely successful spells as caretaker manager for West Ham, at the end of the 2002/3 season and for an 11-match run during the following season, after which Alan Pardew was appointed on his recommendation. He has also worked as a pundit and commentator for the BBC, both on radio and TV, including coverage of World Cups and European Championships.
However, his most influential role has been in football administration, joining the FA as Director of Football Development in 2002, having previously served for three years as chairman of Sport England. His role with the FA gave him total of control of coaching and development in English football, as well as a hand in appointing future England managers.
Away from football, he married his Finnish wife Hilkka in 1970 and the couple had a son and daughter. Also in 1970, he set up a successful bookbinding company, Colbrook Binding Ltd, with an old school friend, Colin McGowan. In 2004 he was knighted for his services to football and in 2009 West Ham announced that the Centenary Stand at Upton Park would be renamed "The Sir Trevor Brooking Stand" in his honour.
When West Ham moved to its new home at the London Stadium, in Stratford, the Sir Trevor Brooking name was transferred to one of the stands there. Today we join with his many supporters in wishing Sir Trevor a very happy 70th birthday.