Not too long ago, people looked on a stairlift as a last resort; an unwelcome intruder in their home which they would only admit reluctantly when it became a medical necessity. But things are changing.
More and more people are investing in an Acorn Stairlift not as a last resort, but as a life-enhancing home improvement – something to make their home life that little bit easier and more enjoyable every day. They might not need it all the time, but it's there, ready and waiting, whenever they do.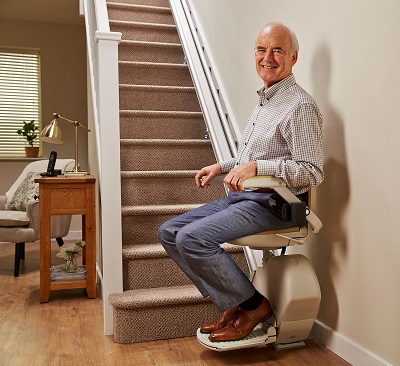 An Acorn Stairlift is also an investment in 'future-proofing' your home, ensuring you can continue living there independently and able to access all areas without the daily grind of climbing the stairs. It effectively turns your two or three-storey home into a bungalow.
So what has brought about this shift in perception, this switch from viewing a stairlift as an unavoidable necessity to a desirable home help? The answer is… a number of things, and all of them key elements of an Acorn Stairlift.
The first is appearance. There's no denying that early stairlifts were large, clunky pieces of unattractive machinery, the stairlift rails in particular looking like industrial engineering shoehorned unwillingly into a domestic setting. Acorn has worked hard to overcome this, producing stairlifts which blend effortlessly into your home and take up the minimum of space on the stairs.
All Acorn Stairlifts use a single sleek and strong aluminium stairlift rail, its mechanism concealed behind a discreet blank face similar in size and appearance to a skirting board. Our stairlift carriages feature a seat, armrests and footrest which all fold up neatly out of the way when not in use, occupying the minimum of space and making it easy for others to use the stairs. It all means that Acorn Stairlifts not only work extremely well, but are easy on the eye too.
In terms of functionality, Acorn has pioneered technical improvements which make our British-made stairlifts extremely reliable, safe and easy to use. We were the first manufacturer to feature DC power, meaning our stairlifts run on powerful batteries which automatically recharge when the carriage is 'docked' at the top or bottom of the stairs. Even in a power cut, our stairlifts will keep running so you'll never be stranded on the stairs.
Safety sensors which automatically stop the lift if it is obstructed, inertia reel seatbelts like those in a car, and lockable swivel seats for ease of getting on and off are all standard on Acorn Stairlifts, as are two remote controls to send or summon the lift if it isn't where you need it to be. Our stairlifts also glide smoothly, with no jerks or bumps, and have a mechanism which ensures they start and stop gently. These are just a few of the features which have made Acorn's home stairlifts the world's best sellers.
Another game changer has been the speed and ease of installation of Acorn Stairlifts. In most cases, if you call us today we will have your new Acorn stairlift installed within just a few days, even next day if urgency is paramount. That not only applies to our straight stairlifts, but also to those on more complex curved or return staircases. That's thanks to our unique FastTrack® modular rail system, which enables a tailor-made curved stairlift rail to be assembled on site in your home in just a few hours.
All Acorn Stairlifts fix to the stairs, not the wall, so there's no messy and disruptive drilling into masonry and you won't need to redecorate or rewire. Our stairlifts simply plug into the nearest available domestic socket and only draw power to top up the rechargeable batteries, making them extremely economical to run. Our skilled stairlift installers – all employed directly by Acorn to ensure the highest standards – even clean up after themselves. If it wasn't for your brand new Acorn Stairlift, you wouldn't even know they'd been!
Another key factor in enhancing the appeal of Acorn Stairlifts is their affordability. We manufacture more than 70,000 stairlifts per year in our UK factories, installing them across Britain and exporting around the globe. This 'economy of scale' means we keep our manufacturing costs low while still setting new standards for quality. Dealing direct with our customers means we can pass these savings on to you, with no 'middlemen' taking a cut.
We can't give a 'flat rate' for stairlifts, as no two are the same, but getting an exact quote for your made-to-measure Acorn Stairlift won't cost you a penny. Call us today on 0800 016 9760 to book your free no-obligation home survey. After assessing your needs and measuring your staircase, our Acorn surveyor will provide a comprehensive quote with no hidden extras. We won't pressurise you and your quote is valid for a whole year, giving you plenty of time to decide. But we're confident you'll agree that Acorn Stairlifts offer the best all-round value for money on the market.
So why delay when an Acorn Stairlift can enhance your quality of life now and safeguard your future independence in the home you love?