Tackling loneliness, especially among the elderly and people who are socially isolated, is receiving increased prominence in the government's approach to promoting 'whole person' wellbeing.
In a new 'loneliness strategy' announced by Prime Minister Theresa May, postal workers in three pilot areas will assume a frontline role in checking on isolated people. Meanwhile, GPs across England will be able to prescribe social activities on the NHS as a way of tackling loneliness and isolation. Examples include walking or exercise groups, dance classes or cookery classes.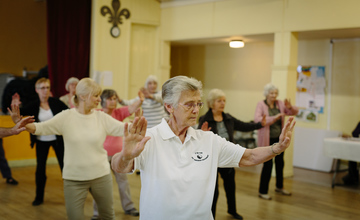 In announcing the new measures, Mrs May paid tribute to murdered Labour MP for Batley and Spen, Jo Cox, who campaigned to end loneliness. Following her death in June 2016, the Jo Cox Loneliness Commission was established in tribute to her and to continue her work. It has put forward various recommendations now being absorbed into government policy.
Announcing the latest measures, Mrs May said: "Jo Cox was absolutely right to highlight the critical importance of this growing social injustice which sits alongside childhood obesity and mental wellbeing as one of the greatest public health challenges of our time. I was pleased to be able to support the Loneliness Commission set up in Jo's name and I am determined to do everything possible to take forward its recommendations."
Loneliness and social isolation have been shown to have a direct and significant impact on both the mental and physical wellbeing of those affected. It is now recognised that detecting loneliness and providing 'treatment options' (as with other medical conditions) benefits not just the affected individual, but society as a whole. It could potentially save the NHS millions of pounds spent on treating physical and mental illness connected to or stemming from loneliness.
The government acknowledges that around 200,000 people in England have not had a proper conversation with a friend or relative in more than a month. Meanwhile, GPs report seeing between one and five patients per day suffering with loneliness. As part of a long-term plan to tackle this 'loneliness epidemic', funding will be made available to enable NHS patients across England to access a variety of group activities.
The nature of the activity prescribed by a GP and funded by the NHS will depend both on the patient's interests and needs, and what is available in their local area. As part of the same process, new links are being forged between NHS trusts and activity providers in their area. Joining a group activity, such as a dancing class or choir, can not only help break the cycle of loneliness but also foster new friendships and informal support networks among people with shared interests.
Mrs May also announced an extra £1.8 million for community projects aimed at tackling loneliness, such as creating new community cafés, gardens and art spaces – all designed to improve people's quality of life. A network of businesses, including the Civil Service, the National Grid, the Co-op and Sainsbury's, have also pledged further action to support their employees' wellbeing.
Many lonely people, especially those living in secluded locations, report that the only regular contact they have with other human beings is people making deliveries to their homes. Building on this, the government is partnering with the Royal Mail on a new scheme giving postal workers a role in detecting and flagging-up loneliness. It is initially being trialled in Liverpool, Whitby in North Yorkshire, and the south-west London suburb of New Malden, but could eventually be rolled out across England.
Launching the government's first official 'loneliness strategy', Mrs May added: "This strategy is only the beginning of delivering a long and far reaching social change in our country – but it is a vital first step in a national mission to end loneliness in our lifetimes."
Jo Cox's sister, Kim Leadbeater, responded on behalf of the Jo Cox Foundation, saying: "The important thing now is to turn the dialogue and strategy into action. That is undoubtedly what Jo would want and for every life that is made less lonely as a result of the work she started and that we have all continued, we will take great comfort. I look forward to this happening in the coming months and years."
• You can find out more about Jo Cox's legacy and the Loneliness Commission by clicking here.