The Bank of England has announced it will produce a new polymer £50 note in due course and it will feature a prominent British scientist, but who do you think it should be?
By now we're all getting used to the new plastic – or more accurately 'polymer' – notes in £5 and £10 denominations. In 2020 a new polymer £20 note, featuring artist J.M.W. Turner, will gradually phase out the current 'paper' £20 notes.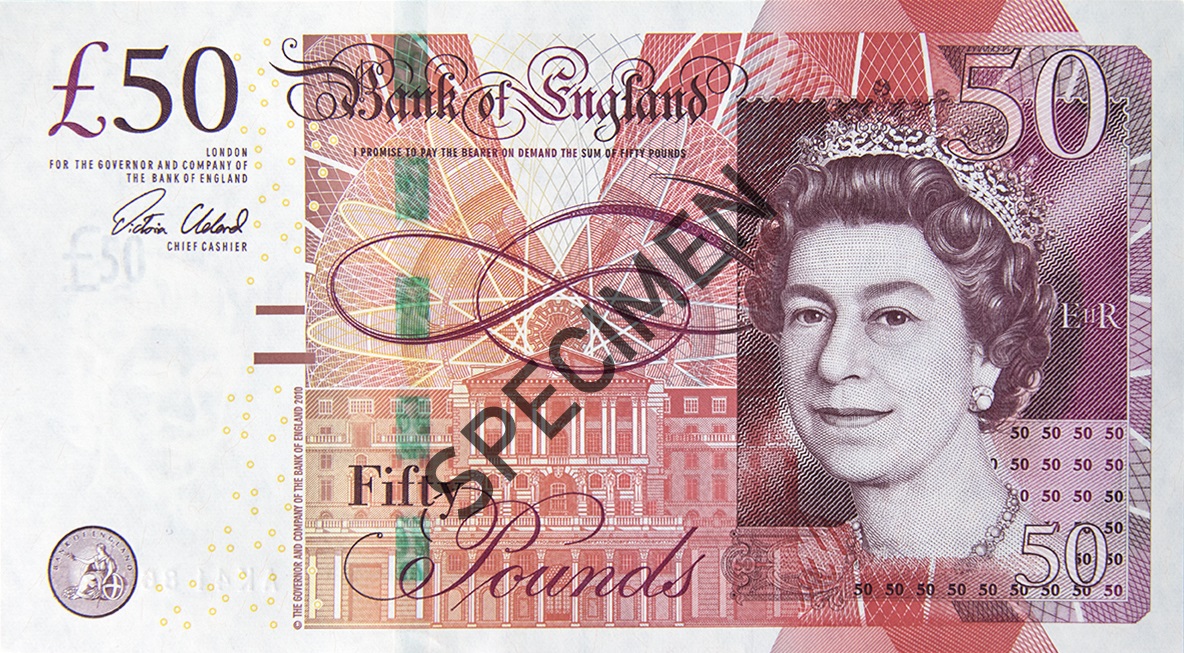 There was some doubt over whether the £50 note would be replaced at all. It is used fairly infrequently for cash transactions, with people now preferring to use credit and debit cards or online banking transfers for large purchases. At the same time the £50 note remains a popular target for counterfeiters, due to its large face value.
However, the Bank of England confirmed last month that it will produce a new £50 note, sometime after 2020. Like the other new notes, it will be a polymer version featuring several high-tech security features, making it both longer lasting and harder to fake.
That announcement was followed up this month with news that the replacement £50 note will feature a prominent British scientist, with members of the public encouraged to nominate their favourites. The Governor of the Bank of England, Mark Carney, urged people to "Think Science" when officially launching the six-week character nomination period during an event at the Science Museum.
He said: "I am delighted that the new £50 will celebrate the UK's contribution to science. There is a wealth of individuals whose work has shaped how we think about the world and who continue to inspire people today. Our banknotes are an opportunity to celebrate the diversity of UK society and highlight the contributions of its greatest citizens. My colleagues and I look forward to hearing from the public as they think science and put forward their nominations."
Nominations are being sought from any field of science, including astronomy, biology, bio-technology, chemistry, engineering, mathematics, medical research, physics, technology or zoology. The only stipulations are that the nomination cannot be for a living person and the work of the nominated person should have contributed significantly to science and influenced UK society.
After the nomination period closes on December 14th, a shortlist of potential candidates will be drawn up by the bank's 'Banknote Character Advisory Committee'. Its permanent members (who are all experts in banknote design and security) will be joined by four specially co-opted experts in the field of science to give their input on the merits of nominees. The final choice will then be made from the shortlist by the Governor of the Bank of England and the decision announced next year, alongside a concept design for the new note.
There will also be a new signature on the replacement note, belonging to the Bank of England's new Chief Cashier, Sarah John. She commented: "Developing a new £50 note is an important step to ensure we can continue to provide secure banknotes that can be used with confidence. For this note, we want people to nominate a variety of characters to reflect the brilliance and breadth of the UK's contributions to the field of science."
Early frontrunners among the nominees include Professor Stephen Hawking, who died in March this year, and wartime codebreaker and computing pioneer Alan Turing. Female candidates include Dr Rosalind Franklin, whose contribution to the discovery of DNA was overlooked for many years, and mathematician and early computer pioneer Ada Lovelace.
In terms of its impact on humankind, it could be hard to beat the contribution of Dr Edward Jenner, sometimes called the "father of immunology". His work developing the first effective smallpox vaccine in 1796 led directly to huge advances in immunising against common diseases and is said to have saved more lives than that of any other human being in history.
• In case you haven't seen one for a while, the current £50 note (introduced in 2011) features steam engine pioneers James Watt and Matthew Boulton. There are currently 330 million £50 notes in circulation, with a combined value of £16.5 billion. Nominations for who should feature on the new £50 note can be made on the Bank of England website by clicking here. The closing date for nominations is December 14th.