Far too much time and money is wasted by the NHS's outdated system of outpatient appointments, which could be streamlined and revamped using new technology.
That's the view of England's 'top doctor', who is calling for a ground-up review of how the outpatient appointments system operates and how 'tech' could be used to eliminate thousands of unnecessary appointments carried out every day.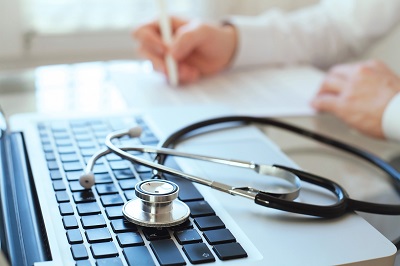 Professor Stephen Powis is NHS England's Medical Director and has written the foreword to a new report from the Royal College of Physicians (RCP). In it he urges the NHS to 'grasp the nettle' of moving away from its outdated system for outpatient appointments and starting afresh, making the most of new technology to achieve the same outcomes in more efficient and cost-effective ways.
According to Prof. Powis, since its inception 70 years ago the NHS has evolved and innovated to meet the changing needs of its patients, but it is crucial that it now looks again at how it interacts with patients to provide the best possible care. Currently there are around 118 million outpatient appointments carried out every year, almost all of which involve the patient travelling independently to the appointment (usually at their local hospital) or being taken there by ambulance.
Prof. Powis believes many of these trips are unnecessary and could be avoided by using technology such as smartphone apps, online 'skype' appointments or a range of other online tools. As well as saving millions for the NHS, it would be more convenient for thousands of patients each day, who wouldn't have to travel or take time off work or school.
"The outpatient system is older than the NHS and the time has come to grasp the nettle and use tech and other innovations to improve patients' experience and care," said Prof. Powis. "As part of the long term plan for the NHS, it's right we look at ways to cut unnecessary appointments, save thousands of journeys, reduce traffic and pollution and make the NHS more efficient."
The RCP report highlights that outpatient appointments should be 'patient-centred', meaning there should be a clear health benefit if asking people to travel to appointments. Ending unnecessary appointments will free up clinical specialists to spend more time treating patients with complex needs, where they can make the biggest difference.
Some areas are already trying out new ways to manage outpatient appointments more efficiently, and several examples are highlighted in the report. For example, in Tower Hamlets in London, a pioneering 'virtual e-clinic' has been set up whereby GPs send questions on kidney patients direct to specialist consultants for a quick reply, eliminating the need for an outpatient appointment. If patients do need to see the consultant, they can be seen more easily.
In the North West of England, a 'neurology hotline' for GPs has spared patients unnecessary worry and travel time, while £100,000 a year has been saved and reinvested back into the NHS. The advice line means GPs in the Cheshire and Merseyside area can call neuro consultants for fast advice any weekday instead of referring their patient for an outpatient appointment, cutting delays in treatment and the need for travel. It is now planned to roll the system out to other areas.
Professor Powis added: "For many people, care can be delivered more timely and conveniently closer to home, by specialists at the GP surgery or by using technology in new and exciting ways. This report shows a snapshot of exciting new models already working successfully through apps, skype, text messaging and remote monitoring systems that are changing the shape of care; we need to bottle and spread those examples building a new consensus for the future based on the views of clinicians and patients."