An older people's charity whose helpful and informative guides have been highly commended by medical professionals has produced a new one on "Living well with long-term health conditions".
The 'Independent Age' charity has produced a series of clearly written guides on age-related topics ranging from getting help at home to avoiding scams, planning for the end of life, home security and many more. Two of its guides, "Coping with Bereavement" and "Dealing with Depression", were recently Highly Commended by the British Medical Association.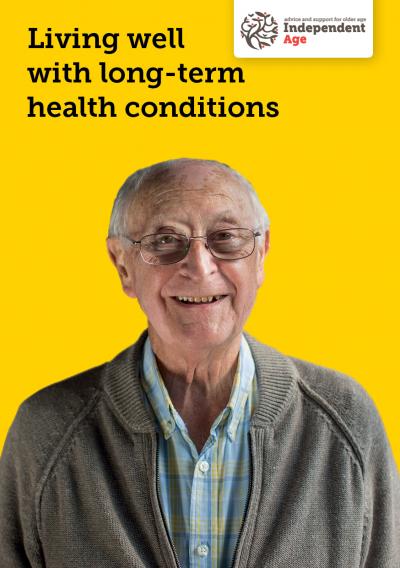 As well as relaying advice and information from experts, the Independent Age guides typically include insights from other older people who pass on the benefits of their own experience on a particular topic. These real-life stories often prove particularly helpful to people experiencing similar problems.
The latest 48-page guide is a good example, containing several stories of how people cope with and manage their long-term health conditions to minimise the impact on their quality of life. Statistics show 58% of people over 60 in the UK are living with one or more long-term health conditions, which can include diabetes, arthritis, high blood pressure and some forms of depression.
The new advice guide has been written in collaboration with GPs, health professionals and older people who share their own experiences and what helped them. It covers areas such as:
how your condition might affect you
ways to cope with challenges
where to find support
how to get the most out of medical appointments
and ways to help yourself.
The guide is intended for people living with one or more long-term health conditions – things that can't be cured but can be managed with medication or other treatment. Anyone can have such a condition, but as we get older they become more common and we're more likely to have more than one to deal with.
Although it has been written specifically for older people, the guide will also be useful for carers, family members, social workers and even professionals such as GPs. Lucy Harmer, Director of Services at Independent Age, said: "We believe this new guide will be a valuable tool when having conversations with patients who might have a lot of information to take in at their appointment.
"The guides have been designed to help patients to self-manage multiple conditions to enable them to continue to live their lives well. Our aim is to give older people the assurances to confidently ask the right questions at medical appointments and navigate their way round all the new information they are receiving."
You can download a free copy of "Living well with long-term health conditions" from the Independent Age website by clicking here. You can use the same website page to order copies of other Independent Age guides, which are also available in alternative formats, such as large print or audio CD.
The Independent Age website is well worth browsing for a wealth of information and advice, all clearly written and easy to navigate. You can find it by clicking here. The charity also operates a free telephone helpline on 0800 319 6789.