Daredevil stunt rider Eddie Kidd, Britain's answer to Evel Knievel, made one of his greatest jumps on December 10th, 1979.
Riding a 400cc Yamaha motorbike, the 20-year-old leapt an 80ft gap on a dismantled viaduct 50 feet above the River Blackwater, in Essex. Experts warned against the stunt, saying it would almost certainly end in disaster if even the smallest thing went wrong.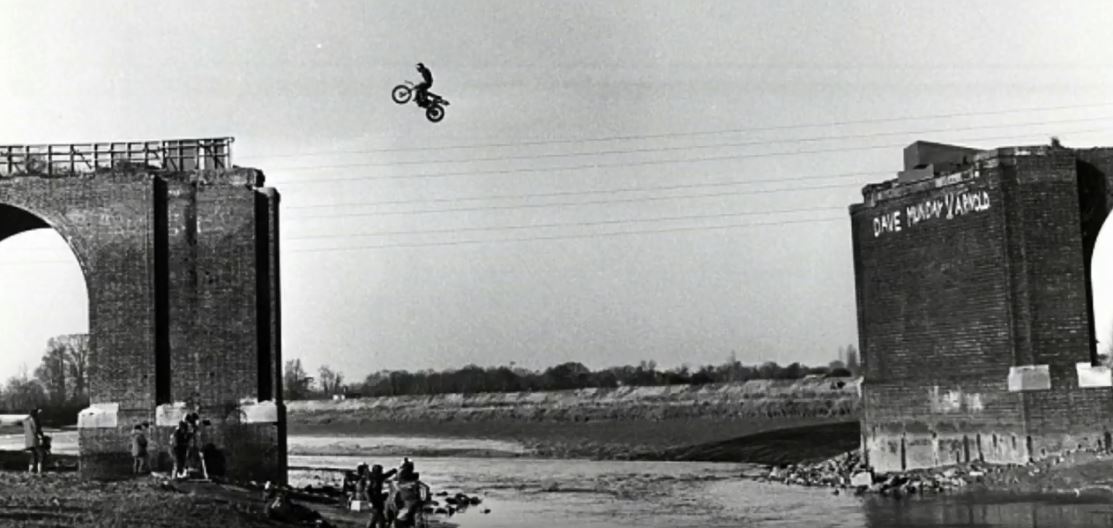 The death-defying jump was filmed from several angles to be used as the climax of a new film starring Kidd as aspiring stunt rider Dave Munday. Called "Riding High", it was the first foray into the world of film for the good-looking and charismatic Eddie Kidd.
The jump 39 years ago today was almost cancelled due to gusty winds, but Kidd was determined to go ahead. He opened up the throttle of his motorbike for the 400-yard run-up, hitting the take-off ramp at 100mph. As he flew across the 80ft gap between the giant buttresses of the former viaduct, the front of his bike began to rise up, causing gasps from the crowd of spectators, which included his parents.
Kidd hit the landing ramp on the back wheel and somehow managed to keep control of the bike as it writhed under him, suffering only a small injury to one leg. After getting his breath back, he said for a moment in mid-air he feared he wouldn't make the landing, telling reporters: "No mistakes – I never want to do a jump like that again."
It hadn't put him off other jumps though – his ambition was to leap the Grand Canyon in America, though he promised to wear a parachute for that one.
The Blackwood River jump raised Kidd's public profile, helped by his film star looks and easy-going personality. He had been doing motorcycle stunts since the age of 14, modelling himself on the famous American rider Evel Knievel, but also developing his own distinctive style. As well as performing at public displays, he forged a successful career as a stunt double in the movies.
Among many movie stunts, he appeared in two Bond movies, doubling for Timothy Dalton in "The Living Daylights" and Pierce Brosnan in "Golden Eye". One of his most spectacular movie stunts was doubling for Harrison Ford in the 1979 film "Hanover Street". It required him to jump over a 120ft railway cutting at 90mph.
By the mid-1980s Kidd was a household name, branching out into a pop career, modelling and appearing in commercials for products ranging from hair care to Levi's jeans. In 1993 he jumped over the Great Wall of China on a motorcycle and later that year accepted a challenge from fellow stunt rider Robbie Knievel (son of the then-retired Evel) to take part in a world title 'jump-off'. The televised event in America involved each rider making three jumps, with their cumulative distance used to determine the winner. Kidd won by six feet.
Despite completing more than 12,000 jumps in his career, Kidd didn't have a UK motorcycle licence to ride on public roads until 1995. He was also remarkably lucky, sustaining few injuries and never breaking a bone despite his hugely risky occupation. But in August 1996 his luck ran out.
He was booked to perform a relatively routine stunt at an annual motorcycle rally, the Bulldog Bash, at Long Marston Airfield, in Warwickshire. It would see him jumping 50ft over a dragstrip, landing on an uphill incline which led to the edge of a steep embankment. Kidd completed the jump and landed the bike upright, but was knocked unconscious when his chin hit the petrol tank on landing. The bike, with Kidd on board, continued up the incline and disappeared over the edge, dropping 20 feet to the concrete below.
Kidd sustained serious head and pelvic injuries in the fall and doctors warned his parents he could be in a coma for years. He regained consciousness within three months, but was left paralysed and with brain damage restricting his physical co-ordination and speech, but not his mental capacity.
His fighting spirit remained and in 2011 he completed the London Marathon, taking 51 days to cover the 26-mile course inch by inch, using a specially-designed walking frame. His effort raised nearly £100,000 for the charity Children with Leukaemia and the Eddie Kidd Foundation. Kidd himself described the achievement as his "greatest stunt yet" and in 2012 he was awarded the OBE in the Queen's Birthday Honours List for services to charity.
• You can see film footage of Eddie Kidd making his leap over the River Blackwell by clicking here.