Flames shooting hundreds of feet into the air could be seen for miles around after a series of huge explosions at Britain's fifth biggest oil and fuel depot on December 11th, 2005.
A plume of black smoke drifted for 40 miles and it took firefighters several days to fully extinguish the blaze at the Hertfordshire Oil Storage Terminal at Buncefield, near Hemel Hempstead. Incredibly no-one was killed in the conflagration, although 43 people were injured.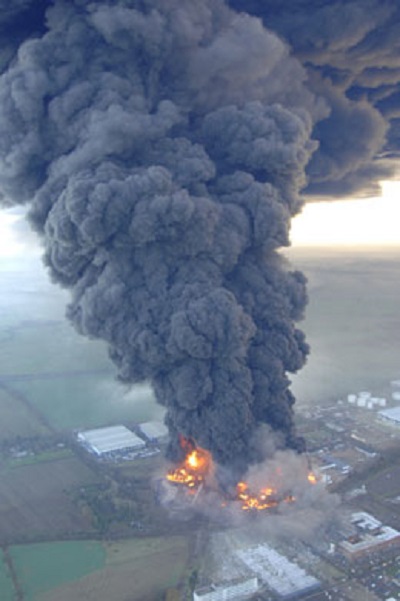 Initial fears that the explosion was a terrorist attack were soon dispelled when police made it clear that the cause was an industrial accident. Even so, the blaze was described as the biggest of its kind in peacetime Europe, with the initial explosions heard as far away as the Netherlands. About 2,000 people living near the site were evacuated and thousands more in the path of the smoke plume were told to keep their doors and windows closed.
The first and biggest explosion happened just after 6am on the Sunday morning near container 912, which was filled with unleaded petrol. A faulty gauge on the container failed to show it was reaching capacity, then another switch which should have shut off the supply and sounded an alarm also failed. The result was that the tank overflowed for around 40 minutes, spilling about 300 tonnes of petrol onto the ground around the container, where it was contained by a bund wall.
It caused a huge and potent vapour cloud to build up and at 6-01am something ignited that cloud, although it will never be known what it was. The blast measured 2.4 on the Richter scale and the shockwave was felt almost 30 miles away. People as far away as South London were woken from their Sunday morning slumbers.
The fire quickly spread to engulf nearby storage tanks, eventually overwhelming about 20 of them. Two more large explosions happened at 6-27 and 6-28am, by which time the massive scale of the disaster was evident. Buildings near the depot, including a school and churches, had windows and doors blown in, while an entire wall collapsed at a warehouse more than half-a-mile away.
Several nearby office blocks were hit so badly that almost every window, front and back, was blown in as the explosion ripped through them. At least one house had its roof blown off and several cars parked near the depot caught fire. Luckily, because it was so early on a Sunday morning, very few people were up and about, which helped keep injuries to a minimum.
There were 43 reported injuries, two requiring hospital admission, although they were not life-threatening. All staff from the depot were accounted for and early fears of fatalities dissolved when several people initially reported missing were found safe and well.
The focus then switched to tackling the massive blaze, with around 180 firefighters and almost 50 fire engines and support vehicles sent to the site. Large quantities of flame-retardant foam were used to contain the fire and a public exclusion zone was set up, which included closing a section of the M1 motorway which ran close to the site.
For more than four hours, 32,000 litres of firefighting foam per minute were directed at the blaze, the pumping rate then gradually reduced amid concern over pollution to local rivers and underground water sources. By midday on Monday – 36 hours after the first explosion – half of the 20 individual fires were out. By 4-30pm two more large fires were out, but one of the containers extinguished earlier then ruptured and reignited, with fears of further explosions causing firefighters to temporarily withdraw until the risk was assessed.
Firefighting resumed at 8pm, but it wasn't until almost 5pm on Tuesday December 13th that all the major tank fires were out, two-and-a-half days after the first explosion. Even then, another fire broke out early on the Wednesday morning, but since it was well contained the safest option was to let it burn itself out.
The smoke plume from the blaze rose to around 9,000 feet, drifted for 40 miles and could be seen across much of south-east England. Schools and other public buildings across a wide area remained closed for most of the week and it was the following weekend before the last of the evacuated residents were allowed home, some to find considerable damage to their properties.
More than 2,700 insurance claims were eventually filed in relation to the disaster, with claims amounting to more than £1 billion. Thirteen years after the disaster, reconstruction is still under way on parts of the Buncefield site.