The end of an era in Britain's long industrial history came three years ago today, with the closure of the nation's last deep-pit coal mine.
Kellingley Colliery, near Selby, North Yorkshire, operated for 50 years and at its peak employed 2,000 mineworkers, but it all came to an end on December 18th, 2015. The following day thousands of people turned out for a march to commemorate the end of deep coal mining in the UK, marked by the last shift ending at Kellingley.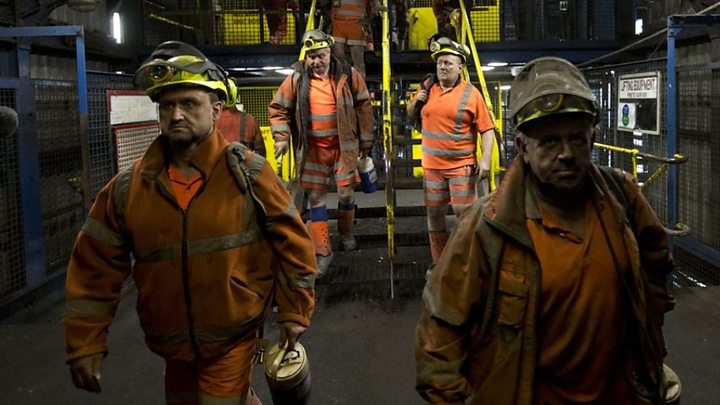 The march began in Knottingley, near Wakefield, in the heart of what had been Yorkshire's mining industry, at one time employing hundreds of thousands of workers in physically demanding but well-paid jobs. Social commentators described the march as Britain's biggest ever funeral cortege.
Deep mining at Kellingley had its origins in the mid-1950s, when exploratory boreholes established there were up to seven high-yield and workable coal seams. Sinking of Kellingley's two shafts began in 1960, but it was difficult and dangerous work. Down to about 600 feet the ground was sandy, porous and waterlogged, making it unstable.
Boreholes drilled around the location of each shaft had sub-zero temperature brine pumped into them, freezing the ground to make it 'hard' enough to sink a shaft through. Those doing the work had to endure sub-zero temperatures until they hit more solid geology below the frozen earth. The shafts were lined with concrete before a thin cement mixture was pumped at high pressure into the surrounding waterlogged ground to stabilise it and prevent water seeping into the mine.
The shafts were eventually sunk to a depth of around 2,625 feet (800 metres). Coal production began at Kellingley in April 1965, employing about 2,000 men. Many were Scottish miners who relocated after losing their jobs when older Scottish pits began to close in the 1960s.
Kellingley's two shafts had separate uses – one was to move men and materials in and out of the mine and the other was to move out the coal, at a rate of up to 900 tonnes per hour. After modernisation of underground mining, using updated methods and machinery, a deep shaft mine could produce 700 million tonnes of coal per year. In 1986, Kellingley colliery achieved 404,000 tonnes in a single shift.
Deep underground an ever-expanding network of tunnels led to the various seams worked by Kellingley miners. The work itself was hard, dangerous and dirty, but many of the miners were born to it and most pits had a strong camaraderie which extended to the communities that grew up around them.
Most of the coal mined at Kellingley supplied local coal-fired power stations, producing electricity for the national grid. Ferrybridge power station was just 3.6 miles away, with a direct rail link to carry the coal from Kellingley. The pit also produced some high-quality coal for use by domestic houses and businesses. A new and highly productive coal seam, named the Beeston Seam, was accessed at Kellingley through a £55m. investment programme by UK Coal, which owned and operated the pit.
But by the 1980s the UK coal industry was in decline. A gradual switch to nuclear power stations, plus other industries and domestic households moving away from coal, massively reduced demand. It was also becoming cheaper to import foreign coal from Eastern Europe, while a series of bitter industrial disputes hampered coal mining in the UK. Meanwhile, Prime Minister Margaret Thatcher's iron determination to break the power of the trade unions culminated in the year-long miners' strike of 1984/85, which ultimately resulted in defeat for the miners.
In the years that followed, scores of UK deep coal mines closed until just a handful remained. Among them were Kellingley and Thoresby Colliery, in Nottinghamshire, which both looked set to benefit from a proposed three-year extension to their working life due to their remaining coal reserves. The proposal from UK Coal was turned down by the government, with Thoresby closing in July 2015 and Kellingley – by then the last remaining deep mine – shut down on December 18th. It cast a long shadow over the local area, with 450 miners made redundant.
Since its closure, Kellingley's twin mine shafts have been stripped of equipment and 'plugged' with concrete blocks about 10 metres deep. Surface buildings have been demolished and the site cleared for redevelopment. However, as with many former deep mine areas there are concerns about future ground subsidence due to the disused workings far below.