Millions of council house tenants in Britain got an early Christmas present on December 20th, 1979, with news that they would be allowed to buy their homes at bargain prices.
The 'Right to Buy' scheme was a central pillar of the Housing Bill published 39 years ago today and championed by Conservative Prime Minister Margaret Thatcher, who had been in office since winning the General Election in May.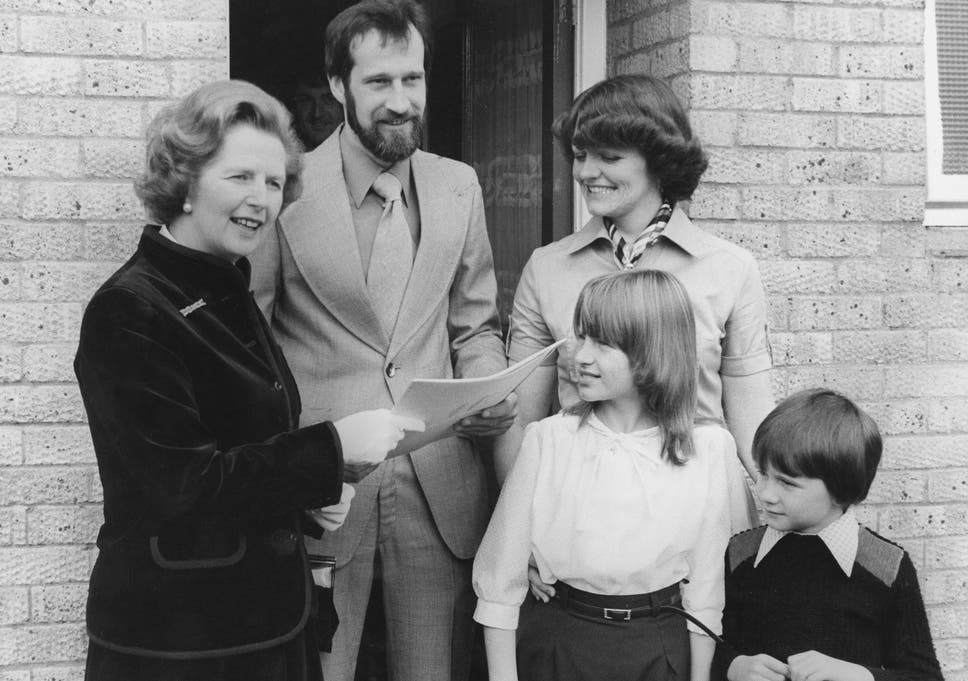 Under the scheme, tenants who had lived in council houses for at least three years would be able to buy them with a 33% (one-third) discount off their market price, or 44% for a council flat. The size of the discount increased in stages depending on how long the tenant had lived there, rising to a maximum 50% discount off market value for tenants who had been in their properties for 20 years.
On top of that, local authorities (councils) would be compelled to offer 100% mortgages to any of their tenants wanting to take up the offer. Those who still could not afford to buy their home immediately (for, example, if they couldn't afford the mortgage repayments) could instead pay a £100 deposit which would secure their right to buy for up to two years. They could then buy the property using the valuation it had when they paid the deposit.
Many local authorities, especially those which had invested heavily in providing modern council housing, were opposed to the scheme, but they would be forced to comply with the new legislation, like it or not. Mrs Thatcher and her government believed that 'Right to Buy' would transform the social structure of Britain for the better. Environment Secretary Michael Heseltine said: "This bill lays the foundations for one of the most important social revolutions of this century."
However, Labour was vehemently opposed to the Housing Bill and vowed to fight it at every stage, saying it would cost the country a fortune and rob it of social housing stock needed for the most vulnerable. It accused Mrs Thatcher of trying to expand the property-owning classes, which traditionally supported her party. In reality, said Labour, each council house sale would cost the taxpayer at last £5,000.
Despite their opposition, the Bill was passed into law and came into force in October the following year as the Housing Act 1980. It started a stampede of council tenants keen to buy their properties and by 1982 more than 400,000 council properties had been sold. The scheme proved extremely popular and was a big vote winner for Mrs Thatcher in the 1983 General Election vitory, even forcing Labour to drop its official opposition. By 1995 it was estimated that around 2.1 million council homes had been sold into private ownership.
But it wasn't all good news. Many of the council houses built in the 1950s and '60s were poor quality and some had inherent defects in their construction methods. When tenants who had bought such properties realised they could face expensive bills for major structural repairs, it sparked a backlash which led to the Housing Defects Act 1984. It enabled unsuspecting buyers to receive government grants to fund their repairs, although there was a cut-off point for applications.
Some council house buyers soon defaulted on their mortgage repayments, but elements of the 1980 Act made it very difficult for local authorities which provided the mortgages to evict non-payers and reclaim the property, unlike in the mainstream housing market. Councils were also put off building new housing knowing they might be forced to sell it at a substantial discount just a few years later.
The Right to Buy scheme certainly did bring about social change; home ownership grew from 55% of the population in 1980, when the Act came into force, to 67% by the time Mrs Thatcher left office in 1990. However, many of the homes bought by their council tenants were later sold on for a quick profit. In a 2013 report it was claimed that a third of former council properties were now owned by wealthy landlords who let them out at rents far higher than those for social housing.
There is also a marked shortage of social housing (that provided by councils and not-for-profit housing associations) across the UK. It was envisaged that the cash raised from sales of council houses would be ploughed back into providing new, more modern properties, but in most areas that hasn't happened.
Sharply rising house prices, in part caused by the Right to Buy, also mean many first-time buyers can no longer get on the property ladder. Although home ownership rose to a peak of 70.9% in 2003, by 2016 it had dropped to 62.9%, the lowest level since 1985, and in several parts of the country it continues to fall. Many people trying to get on the property ladder are now barred by astronomical house prices and unaffordable mortgages, high rents and limited access to social housing.