If you're starting to find the stairs in your home a struggle, why not make a 2019 New Year resolution to do something about it?
There are many reasons why climbing the stairs – something we once did without a second thought – can become more challenging. The most obvious is simply the passage of time. As we grow older, any physical activity can become more taxing and tiring – we're simply not as young and full of beans as we used to be!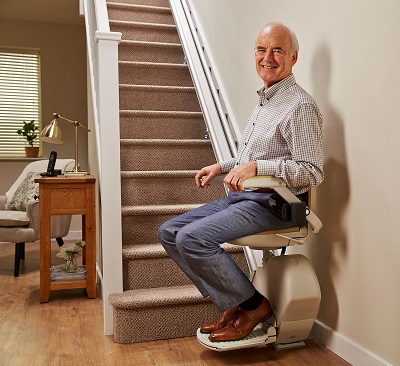 There is also a wide range of health conditions, many of them age-related, which can turn the stairs into a daily struggle. The most common is osteoarthritis, which causes inflammation and pain in the joints, especially 'weight-bearing' joints like the knees, hips and ankles. For people with arthritis, using the stairs can be not just difficult, but painful too, and coming down is often worse than going up, with fear of jolting those inflamed joints.
Other conditions, such as heart disease and angina, can leave you feeling short of breath, light-headed or suffering chest pain through physical exertion such as climbing the stairs. People with these conditions might need to stop on the stairs to catch their breath, or sit down to recover once they reach the top.
You might have suffered an accident or prolonged illness which makes using the stairs difficult, or even impossible during the recovery period. It might mean struggling on the stairs with a stick or crutches, or needing to be supervised whenever you use the stairs. In all these circumstances, the real danger is that you could fall on the stairs. While a fall anywhere in the home can be serious –especially as we get older – a fall on the stairs could have catastrophic consequences.
Thankfully, there is a simple and stylish solution to all of these difficulties, in the shape of an Acorn Stairlift. Having one of our award-winning British-made stairlifts installed in your home overcomes the obstacle of stairs at a stroke. Instead of struggling up and down the stairs in pain or discomfort, or putting off using them until absolutely necessary, you can glide up and down in comfort and safety whenever you like.
In the past, people saw a stairlift as a medical apparatus and a last resort, but those days are gone. Instead, an Acorn Stairlift is a modern home convenience, like a dishwasher or tumble dryer – a piece of technology to make your life that little bit easier. Why soldier on in your daily battle with the stairs when an Acorn Stairlift can win that battle for you today and every day?
The slimline design of Acorn Stairlifts and their unobtrusive single stairlift rail means that they blend well with a home setting. The seat, footrest and armrests of an Acorn Stairlift all fold up easily out of the way when not in use, making it easy for others to use the stairs, even on a narrow staircase.
Even if you don't need to use the stairlift every time you go up or down the stairs, it's reassuring to know it's there, ready and waiting, for those times when you do. Perhaps your arthritis has flared up, maybe a cough or cold is making breathing more difficult than normal, or you might just be tired after a busy day?
Whatever the reason, why not be kind to yourself and let an Acorn Stairlift take the strain out of your stairs? You'll also find that the energy you save in not struggling with the stairs can be put to much better uses.
Most of all, if you worry about your safety on the stairs, an Acorn Stairlift will whisk that worry away and replace it with peace of mind. Not just for you, but also for family and friends who might worry about your safety on the stairs. Installing an Acorn Stairlift is an investment in your safety and future independence, enabling you to remain in the home you love and have easy access to all of it.
To find out more about how an Acorn Stairlift can improve your daily quality of life in 2019, give us a call on 0800 016 9760 or click on the green "Get a free quote" button at the top right of this page. A home visit by one of our UK network of Acorn surveyors is completely free and without obligation. Our surveyor won't give you 'the hard sell', but will answer all your stairlift questions.
After assessing your individual needs and measuring your stairs, our surveyor will provide a comprehensive quote with no hidden extras and valid for a whole year, giving you time to make up your mind. We're confident you'll find that Acorn Stairlifts offer the best all-round quality and value on the market. We can also have your tailor-made stairlift installed and running within a few days or your initial inquiry, even on more complex curved staircases.
So why not be kind to yourself in 2019 and make life easier with an Acorn? Like many of our satisfied customers, you'll only wish you'd done t sooner.