One of the biggest TV hits of recent years has been the BBC's adaptation of Winston Graham's 'Poldark' novels, which has made a mainstream star of Irish actor Aidan Turner in the title role.
But he isn't the first Poldark heartthrob to set the nation's hearts aflutter. Today sees the birthday of the original TV version, actor Robin Ellis, who played the role in two series transmitted between 1975 and 1977. Like Aidan Turner, his smouldering Ross Poldark captivated the nation, and without taking his shirt off in a field of wheat!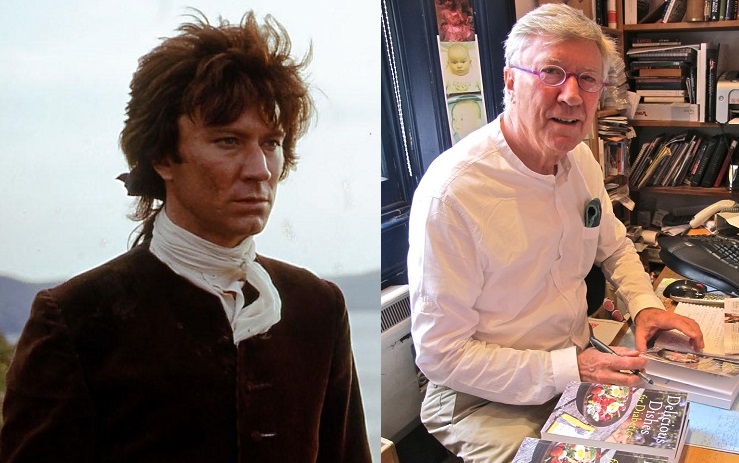 Born in Ipswich, Suffolk, on January 8th, 1942, at the height of the war, Robin Ellis was a gifted scholar who studied history at Cambridge, where he was also bitten by the drama bug. Appearing in more than 20 plays while at university, he set his sights on a career treading the boards and was soon securing stage roles in the West End, no doubt helped by his strikingly handsome looks.
He was part of the "Actors Company" founded in 1972 Ian McKellen and Edward Petherbridge, an innovative company organised and democratically run by the actors themselves. He appeared in several of its early and successful productions, including "The Way of the World" and "King Lear".
Early TV roles also came, including a part in the BBC's 1971 adaptation of Jane Austen's "Sense and Sensibility" and a reputation-building portrayal of the Earl of Essex in the acclaimed BBC series "Elizabeth R", starring Glenda Jackson. In contrast to the usual costume dramas, he also had a part in the 1975 pilot episode of "Fawlty Towers". These all led to Ellis being scouted for a role in a new historical drama planned by the BBC.
Unlike many up-and-coming actors, his first starring role on TV became by far his biggest and the one for which he will always be best-remembered. He was cast as Ross Poldark, dashing but troubled hero of Winston Graham's novels set in late 18th century Cornwall. His often tempestuous marriage to the fiery Demelza (Angharad Rees) and simmering passion for long-time love Elizabeth (Jill Townsend) soon became compulsory Sunday night TV viewing.
The two series ran to 29 episodes in all and became one of the most successful BBC adaptations of all time. It was sold to more than 40 countries and did particularly well in the USA, where a 2007 poll ranked it seventh in the best-loved series of the past 35 years. Back home in the UK, it attracted an average of 15 million viewers per episode, more than twice that of the recent highly successful revival, but TV has changed an awful lot in the 40 years separating the adaptations.
After such huge success with Poldark, you would expect its star to be launched into a glittering TV and film career, but for Robin Ellis it didn't really happen. If anything, he became a victim of that success, so closely associated with the character of Ross Poldark that it became difficult to cast him in other roles.
Work did come – he co-starred with Lee Remick in the 1979 Merchant-Ivory film "The Europeans" and played archaeologist Howard Carter in an American mini-series, "The Curse of King Tut's Tomb". Both bought good reviews, but the major roles in film and TV did not follow. He starred in a well-received 1981 TV drama, "The Good Soldier" and had cameo appearances in popular series including "Heartbeat" and "The Casebook of Sherlock Holmes", but nothing recaptured the success of Poldark.
Fortunately, Ellis was truly at home on the theatre stage, where he enjoyed a long career, including a stint with the Royal Shakespeare Company, working into the late 1990s. He also forged a successful career in voiceover work, narrating a string of documentaries, many of which rekindled his love of history from university days.
Being both an enthusiastic cook and diagnosed with type 2 diabetes opened another door and in 2011 he published a very successful cookbook entitled "Delicious Dishes for Diabetics: A Mediterranean Way of Eating". It was followed in 2014 by "Healthy Eating for Life" and two years later by a third cookbook, entitled "Mediterranean Cooking for Diabetics: Delicious Dishes to Control or Avoid Diabetes".
By then, his TV acting career had come curiously full circle. When the new BBC adaptation of "Poldark" began airing in 2015, long-time fans and eagle-eyed viewers spotted a familiar ­– if a little older – face in the recurring role of the ill-tempered Reverend Dr Halse. With the fifth and final series due to be aired later this year, the revitalised 'Poldark' has seen Robin Ellis return to the dramatic Cornish coastline many times since 2015.
These days he makes the journey from the home in southwest France which he shares with his wife, Meredith, and a menagerie of animals, and where today he will celebrate his 77th birthday. For more about Robin Ellis's career and cookbooks, visit his website by clicking here.