IF you leave your car on the public highway when you haven't paid its road tax, you risk having it first clamped, then towed away and impounded.
And since many people use their cars or vans as extra storage, what happens to the stuff you had inside it if gets impounded? The short answer is that it's "bagged and tagged" then stored for a period of time, giving the owner a chance to reclaim it. If that doesn't happen then it's made available for sale at public auction.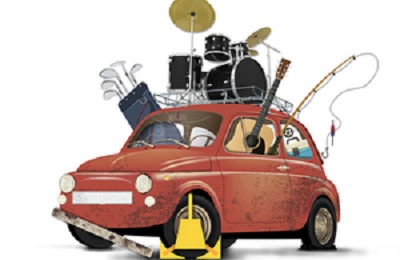 Now the government's Driver and Vehicle Licensing Agency (DVLA) has revealed some of the oddest items found in untaxed cars and vans which were clamped and impounded over the past year. As well as the everyday items that we all tend to leave in our cars – maybe a spare coat, umbrella and our reusable shopping bags – the list includes:
an off-road quad bike
an acoustic guitar with accessories, stand and carry case
half a corner sofa
three jockey helmets
a bathroom toilet, complete with seat
fishing rods and assorted fishing tackle
a full drum kit with an expensive amplifier set
a quantity of male mannequin torsos
a set of 1990s "Beavis and Butthead" trading cards
a full set of motorbike leathers, boots and helmet
a highly collectable Louis Wain illustrated book of cats from the 1920s
a full set of golf clubs.
These unusual items were among nearly 600 sets of personal belongings discovered in untaxed cars over the 12-month period. Some were later reclaimed by their owners, but others went unclaimed and were later auctioned off to the highest bidder.
While the 'weird list' might provide a little light relief, it also hioghlights that having your untaxed vehicle clamped or impounded is far from funny. Some owners simply forget to tax their car, even though the DVLA routinely writes to registered owners to remind them their tax is due. Others think that if they don't use their car they can sign a 'SORN' declaration (Statutory Off Road Notification) instead of paying road tax – but you can only do this if the vehicle is kept on private land away from the public highway, otherwise it could still be clamped and impounded.
Then there are those who think they can simply get away without paying their road tax, especially since 'tax discs' were scrapped a few years ago and no longer have to be displayed in the windscreen. However, the DVLA has a massive database of all vehicles registered in the UK, including whether or not they are taxed. Together with 'ANPR' (Automatic Number Plate Recognition) cameras in police vehicles and at fixed roadside sites across the UK, this technology means anyone driving an untaxed vehicle or leaving it on the highway will get caught sooner rather than later.
Wheelclamping is one of a range of enforcement measures used by DVLA against untaxed vehicles. When an untaxed vehicle is clamped. Its registered keeper will have to pay a release fee of £100 and, if they can't show the vehicle has been taxed, a surety fee of £160. The surety fee is refunded if the motorist can show the vehicle has been taxed within 15 days of the vehicle's release.
If the release fee is not paid within 24 hours, then DVLA can impound the vehicle. The release fee then rises to £200 and there will be a storage charge of £21 per day, which quickly builds up. Again, the surety fee of £160 must be paid if the motorist cannot show that the vehicle has been taxed.
The DVLA's Head of Enforcement, Tim Burton, said: "Having your car clamped is expensive and inconvenient – and as this list of items shows, you could end up losing more than just the car!
"DVLA operates a range of measures to make vehicle tax easy to pay and hard to avoid. While the vast majority of motorists do the right thing and tax their cars correctly, it is right that we take action against those that break the law and fail to tax their car. It's never been easier to tax your car – it's just a few clicks to do it online and you can do it 24 hours-a-day. You can also spread payments across the year by Direct Debit, so there really is no excuse. The law is clear and so are the consequences – tax it or lose it."