WITH a host of memorable catchphrases and hilarious malapropisms, all delivered in an inimitable Lancashire brogue, Hylda Baker was a comedy star unlike any other.
Born in Farnworth, near Bolton, on February 4th, 1905, she was the eldest of seven children. Her father, Harold, was a painter and signwriter who supplemented his income as a part-time comedian in the music halls, where young Hylda was bitten early by the performing bug.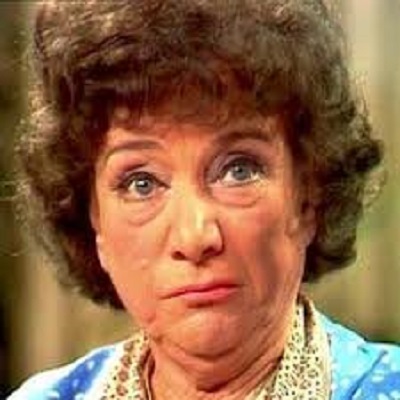 She made her own music hall debut at the age of 10, developing a popular act in which she sang, clog danced and performed impersonations. By the age of 14 she was already writing, producing and performing her own comedy shows. Her most popular music hall act was as a northern gossip, performing a monologue alongside a silent, sullen companion named "Big Cynthia", almost always played by a man in drag.
Her routine was littered with malapropisms – "and I can say that without fear of contraception" – and catchphrases including her most famous, "she knows, y'know!" These became so closely associated with her that they became part of her public persona, almost inseparable from the characters she played. Critics might carp that she only ever played one part, but it was one of her own devising and nobody did it better.
In 1955, her music hall skills were used to full effect on BBC Television's "The Good Old Days", which led to a TV series, "Be Soon", named after another of her catchphrases. More TV work followed, together with film roles including a memorable turn as 'Aunt Ada" in the 1960 classic "Saturday Night and Sunday Morning", starring Albert Finney. Other film cameos included "Up the Junction" and "Oliver!", both in 1968, but it was in TV sitcoms where Hylda Baker found her true home and became a household name.
Her most famous role was in Granada TV's "Nearest and Dearest", which ran to seven series from 1968 to 1973. She played hardworking spinster Nellie Pledge opposite Jimmy Jewel playing her feckless and womanising brother "our Eli". The sitcom saw them working together to run "Pledge's Purer Pickles" in order to inherit money from their late father's will.
Much of the series' humour stemmed from their constant bickering, hurling insults at each other to spectacular effect. Rumour has it the arguments were no less colourful off screen, as she and Jimmy Jewell didn't get on in real life, but it made for great comedy and even spawned a 1972 feature film spin-off.
She went on to play an almost identical character in her next sitcom, "Not On Your Nellie", between 1974 and '75. Produced by LWT and originally intended as a sequel to "Nearest and Dearest", copyright issues meant a name change to 'Nellie Pickersgill' and a different setting in an inherited London pub, but Baker's character and all its comedy traits were unchanged.
Sadly, she was by now already suffering the early effects of dementia, struggling to remember lines and instead relying on cue cards and whispered prompts from her fellow actors. She fell out with LWT after slipping on some spilt beer on set and breaking her leg, appearing in a wheelchair in one episode. When she sued for compensation, it brought the third series to an abrupt end, but also marked the end of her TV acting career.
She continued making occasional appearances, including a hilarious 1978 musical parody with Arthur Mullard of the hit song from Grease, "You're the One That I Want". Dressed in costumes and wigs to ape Olivia Newton-John and John Travolta, the 73-year-old Baker and 68-year-old Mullard gave one of the most bizarre "Top of the Pops" performances ever to a studio audience of bemused teenagers after their version reached number 22 in the charts.
Away from the spotlight, Hylda Baker enjoyed living the life of a star, dressing in furs and, for a time, keeping monkeys as pets. She often had run-ins with her neighbours in Blackpool when they objected to her frequent and noisy parties.
Some thought her pet monkeys were substitute children, as she suffered two ectopic pregnancies, which contributed to the breakdown of her marriage. In another highly-publicised episode, in 1971 her chauffeur absconded with £2,500 of her money, equivalent to about £35,000 today. Although he was later caught, he had blown almost all the money on foreign travel and she got very little back.
In her late seventies her dementia worsened and in 1981 she moved to a care home for retired performers in London. Her final two years were spent in hospital, where she died in May 1986, at the age of 81. For a generation of TV and film viewers, Hylda Baker will be forever remembered as a feisty and sharp-tongued performer whose mangled monologues and comical facial contortions had us rolling in the aisles.