YOU will almost certainly have heard the phrase "an ageing population", which simply means that more of us are living for longer, but it's also important that we can enjoy good quality of life in those extra years.
Most people want to spend those years living as independently as possible in their own home, rather than in residential care, and if you enjoy reasonable health which doesn't threaten your safety at home, it should be possible. However, as you grow older you might need some help to continue living at home, especially if you're on your own, and there are various options available.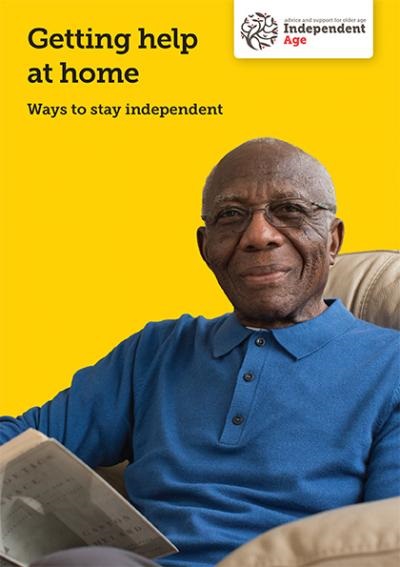 A great source of information in this area is the national charity 'Independent Age', which provides a wide range of advice and support for people in older age. You can visit its website by clicking here and among other things you'll find it produces a range of excellent, information-packed guides, which can be downloaded or ordered as leaflets.
One of them is entitled "Getting help at home: ways to stay independent" and looks at the various ways you could be supported to stay living in your own home for longer, with a little help in the areas where you need it. The starting point is to consider what you might need help with – it could range from shopping to personal care such as washing and dressing – then start to explore the various options available.
The easy-to-read 40-page guide works through the various types of help available, from 'home-help carers' to equipment and home adaptations which could make life easier. Chapters included in the straightforward guide include:
Getting help with household chores
Equipment and adaptations to make life easier
Gadgets to make you feel safer at home
Staying connected at home
Extra money if you need help to look after yourself
Extra help if you're just home from hospital
Help with personal care at home
How to complain if you don't think you're getting the help you're entitled to.
The guide lists sources of help available to you in different areas, how to go about accessing them, and offers advice on things like employing a cleaner of gardener. Many people living independently at home don't even realise they might qualify for help to do so, whether that means 'meals-on-wheels', a carer to pop in now and again, or funding towards home adaptations, such as a stairlift.
You can find out more about the guide, download or order your own copy, or listen to an audio version of it by clicking here. Independent Age also operates a free Helpline on 0800 319 6789.
• Perhaps the single most transformative change to help you remain living independently in your own home is a stairlift. An Acorn Stairlift effectively turns your two-storey home into a bungalow by removing the obstacle of stairs, which can become far more challenging as we grow older. You could be eligible for financial help towards the cost of a stairlift if you can no longer manage the stairs in your home – you'll need to contact your local council as the starting point to find out more.
You could also be pleasantly surprised at how affordable an Acorn Stairlift is, especially when seen as an investment in your future independence and an alternative to the far greater expense and upheaval of moving house. It's impossible to give a 'standard price' for a stairlift, as the setting and the user's needs differ, but finding out the price for your made-to-measure Acorn Stairlift won't cost you a penny.
Just call us on Freephone 0800 016 9760 to organise your free, no-obligation home survey and quote. Our surveyor will call at a time convenient to you to discuss your needs and survey your staircase. Only when this is done can our surveyor provide a comprehensive quote, with no hidden extras, for the right stairlift to meet your needs.
We won't pressurise you for a sale and the quote we give is valid for a whole year, giving you plenty of time to decide. You could also seek quotes from other suppliers, but we're confident you'll find that Acorn's British-made stairlifts, sold direct to you from the manufacturer, offer the best all-round value for money on the market. Why not give us a call and see for yourself?