FIFTY years ago today, hundreds of fans clamoured to catch a glimpse of popstars Lulu and Maurice Gibb when they married at a church in Buckinghamshire.
The happy couple chose St James' Church in Gerrards Cross as the setting for their wedding on February 18th, 1969, which also attracted a throng of press photographers vying for the perfect shot.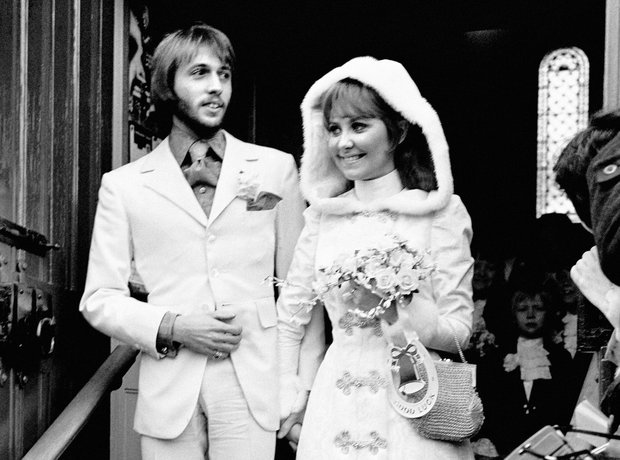 Twenty-year-old Lulu – born Marie McDonald McLaughlin Lawrie in Lennoxtown, Scotland – hoped to keep her wedding plans secret, but the news leaked out and more than a thousand well-wishers gathered outside the church. Unfortunately, several children were hurt when the crowd surged forward as Lulu arrived, fashionably late, in her green Rolls-Royce.
She had to ask the crowd to let her through, with police forming a cordon to allow her to reach the church. Dressed for a winter wedding, she wore a long, white, mink-trimmed coat with a fur hood over a simple white silk mini-dress.
Inside waited her bridegroom, 19-year-old Maurice Gibb, one of the three Gibb brothers who together formed the Bee Gees. His best man was his twin brother Robin, who had also married just three months earlier. The third and eldest Gibb brother, Barry, arrived 10 minutes after the bride – something which didn't go unremarked because he had commented publicly that he opposed the wedding, believing the couple were too young.
No other celebrities were present at the small family wedding, presided over by the Reverend Gordon Harrison. After the half-hour service the newlyweds were trapped in the church for almost 15 minutes while police cleared a path to their waiting car. They spent a few minutes at the Bee Gees' parents' house in Gerrards Cross before travelling to London for their reception.
Lulu already had a successful five-year pop career under her belt, beginning with the 1964 single "Shout" when she was just 15. She hosted the first of several TV series the following year and enjoyed a string of pop hits. She also had an acting role in the 1967 feature film "To Sir, with Love", starring Sidney Poitier, for which she sang the title song. It went straight to number one in the charts and was the best-selling single of 1967.
The Gibb brothers were born on the Isle of Man but first found fame performing as the Bee Gees in Australia, after their family emigrated there in 1958. Returning to Britain in 1967, they soon found their way into the charts and were regular performers on TV shows aimed at teenage audiences.
Speaking at the time of her marriage, Lulu told reports she wanted to cut down her workload and concentrate on family life because she and her new husband wanted lots of children. There was no immediate let-up though as she was in rehearsals to represent Great Britain in the 1969 Eurovision Song Contest, held in Spain on March 29th. Singing "Boom Bang-a-Bang", she finished as joint winner in a four-way tie with France, the Netherlands and Spain – the first time there had been a tie.
She and her new husband had to put off their honeymoon until after the contest, but then enjoyed a trip to Mexico. Sadly, the marriage didn't work out and the couple divorced in 1973. They blamed the pressure of their careers, but stressed no-one else was involved and they remained on good terms. However, Maurice Gibb also started drinking heavily after the Bee Gees briefly split in December 1969 and he struggled to forge a solo career.
Both Lulu and the re-formed Bee Gees went on to have long and successful careers. Lulu was remarried in 1977, to celebrity hairdresser John Frieda. They had one son but divorced in 1991. Maurice Gibb married his second wife, Yvonne Spenceley, in October 1975 and they had a son and daughter together. Although their marriage was often rocky due to his drinking, it improved dramatically after he went into rehab in 1991 and stayed sober afterwards. They renewed their vows the following year and were married for almost 30 years.
In 2002 Lulu starred in a high-profile ITV show "An Audience With Lulu", during which she reunited with her first husband to sing a duet. Sadly, his health had suffered and he died suddenly and unexpectedly in January 2003 from a heart attack, at the age of just 53.