EVEN when the stairs become a real challenge, some people are put off investing in a stairlift because they think it will look ugly and out-of-place in their home.
There's no getting away from it – early stairlifts were no oil painting! Running on big, chunky, clunky rails, with exposed machinery and carriages designed purely for function, they looked more suited to an industrial setting or, at best, a hospital. They took up a lot of room too, often making it difficult for others in the house or visitors to squeeze by on the staircase.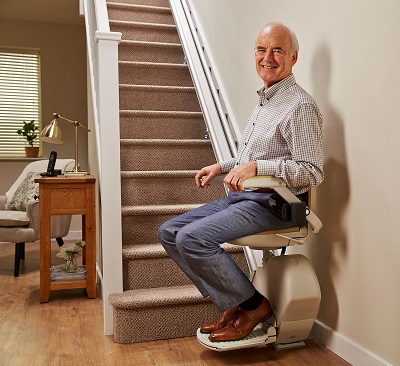 But that was then and this is now. Acorn Stairlifts has led the way in making its products not only efficient and reliable, but unobtrusive and easy on the eye. We know that most people invest in our British-made stairlifts so they can remain living independently in the home they love. So why would they want to spoil that lovely home with something that has clearly had little thought put into the away it looks?
At Acorn we put a great deal of thought – and effort – into the way our stairlifts look, on top of how well they work. Home stairlifts are all we do, so it's important to us to get every aspect of them just right, and that includes 'the look'.
Okay, even we self-confessed 'stairlift nerds' know that very few people will gaze longingly at a stairlift and call it a thing of unfettered beauty! Ultimately, it's a domestic appliance designed to make our lives easier and, much like a dishwasher or tumble dryer, there's only so much you can do to disguise its function. The difference is that most domestic appliances can be hidden away out of sight, perhaps in a utility room, but a stairlift, by definition, has to be on the stairs and in open view.
Because of that, we've worked hard to make our Acorn Stairlifts as visually appealing as possible, designing them to blend harmoniously into a domestic setting. Let's look first at the stairlift rail; some stairlifts still use chunky double parallel rails or ones with the 'engineering on show'. All Acorn Stairlifts run on a single light-but-strong aluminium rail which is fixed to the stairs, not the wall, eliminating the need for messy and disruptive drilling through plaster and masonry.
Our Acorn 130 stairlift for straight staircases runs smoothly along an unobtrusive single rail using a reliable rack and pinion system, with the 'workings' tucked away inside the centre section. In homes where the protruding bottom end of the rail would obstruct a walkway or cause a trip hazard, a short hinged section can be fitted which folds up safely out of the way when the stairlift is not in use.
For curved staircases the Acorn system is slightly different, but no less visually appealing. Again we use a single rail, raised a little higher off the stairs but with all the internal workings hidden behind and outward-facing blank panel. Our unique modular FastTrack® curved rail system means an Acorn Stairlift can be installed in your home within a few days of your first inquiry, instead of waiting weeks for a heavy steel rail to be manufactured in a factory and shipped out to you.
Turning to the stairlift carriage – the part your ride on – at Acorn we've worked hard to combine maximum user-friendliness with a design that's sympathetic to a home environment. The seat, arms and footrest all fold up neatly out of the way when not in use, so others can still use the stairs, even on narrow staircases. All the working parts are encased in a pleasantly rounded and robust outer shell, which not only protects them but improves the look.
On all visible components we have chosen a palate of neutral colours, since valued customer feedback over many years has told us that this is what people prefer; it blends most easily into their homes. We made a deliberate choice not to offer a range of colour options in order to keep the price down, as this is a prime consideration for most customers. Practicality also plays a part in the choice of some finishing materials, such as the non-slip easy-clean surface of the seat and backrest, footrest and control paddles.
In short, Acorn continues striving to produce the world's best performing stairlift, while also making it look as good as it possibly can. Many of our customers tell us they've 'fallen in love' their new Acorn Stairlift, mainly for the massive difference it makes to their daily quality of life, but also because they've been pleasantly surprised at how good it looks in their home. Beauty, as they say, is in the eye of the beholder!