PET rabbits, cats and even small dogs were kept safely indoors in central London in March 1965 as Goldie the Golden Eagle continued to evade capture.
It had been eight days since Goldie made a successful bid for freedom while his enclosure at London Zoo, in the heart of Regent's Park, was being cleaned out. Since then there had been regular sightings, mostly around the royal park, but also perched high on buildings in Tottenham Court Road, Euston and Camden Town.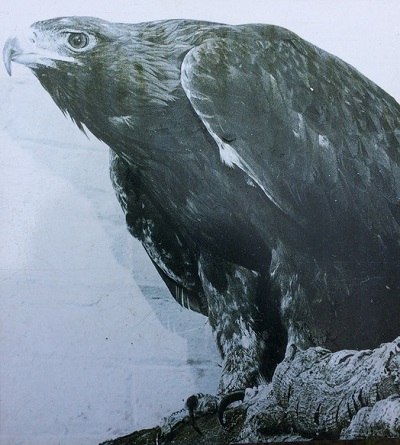 A formidable bird of prey with a wingspan of almost seven feet and razor sharp talons and beak, Goldie had made a meal of several unsuspecting London pigeons and assorted local wildfowl. No friend to his fellow Scots, he even attacked two Cairn terriers enjoying walkies in the park, but was driven off by brave onlookers who rushed to the dogs' rescue, proving once and for all that Britain is a nation of dog lovers!
After that, far fewer dogs were walked in the park with Goldie on the loose, and some parents even refused to let their children play out or walk to school for fear of them being carried off!
One attempt to capture Goldie narrowly failed 54 years ago today, on March 7th. Born and raised in captivity, Goldie was less wary of humans than a wild bird would be, so it was possible to get quite close to him. He was busy tucking into one of the American Ambassador's prized Muscovy Ducks in the grounds of the Ambassador's official residence when a reporter, out to make a name for himself, attempted to sneak up and throw a coat over him.
Far too wily for such an obvious ploy, the majestic eagle took flight at the very last moment, leaving the Ambassador's duck half-eaten, but covered by a somewhat bloodstained coat. In fact, an entire press pack had been tracking Goldie for several days, abandoning their own half-consumed bacon sandwiches and mugs of tea every time news of the latest sighting came in.
They were not alone, as excited ornithologists, perplexed police officers and frequently outfoxed firemen armed with nets joined the wild eagle chase. There was even talk of borrowing a special net-launching gun from the Royal Navy, but that plan quickly sunk.
Meanwhile Joe McCorry, Deputy Head Keeper at the zoo, remained unruffled, confidently predicting that Goldie would be caught once he got really hungry. He had two teams of keepers out tracking the bird, using two-way radios borrowed from the local Civil Defence Corps and ready to intervene should Goldie develop a taste for anything truly off the menu, such as one of Her Majesty's corgis.
Seizing on a quirky story, the BBC despatched its reporter John Timpson to cover Goldie's escapade. Recently returned from covering the Queen's visit to Ethiopia, he had rather fortuitously picked up an Ethiopian bird pipe, quite capable (or so its seller claimed) of charming the birds from the skies. Despite Mr Timpson's best efforts with his mystical pipe, Goldie would not succumb. Maybe he was playing the wrong tune?
Goldie was eventually caught four days later and, just as Keeper McCorry predicted, it was his hunger that proved his undoing. Able to empathise with his elusive escapee, Mr McCorry tied a dead rabbit to a rope at one of Goldie's favourite haunts, the wildfowl sanctuary in Regent's Park. Ninety minutes later down swooped Goldie for the tasty treat, at which point Mr McCorry walked calmly up and captured the off-guard eagle with his bare hands.
Having tethered the bird's legs, he took him back to the zoo for a long-overdue reunion with his deserted mate, Regina, who no doubt greeted him warmly with the eagle equivalent of: "And where in blue blazes do you think you've been! Out all hours, living the high life, plastered all over the tabloids, and never a thought for me, stuck at home with the eggs…."
Having gripped the nation for 12 days, Goldie's escape also worked wonders for visitor numbers at London Zoo, where 6,500 visitors were recorded on the first Sunday after his return, up by almost 3,000 on the corresponding Sunday the previous year. Having acquired a taste for freedom, Goldie got out again in December that year, but this time managed only four days on the wing before the keepers caught up with him.
After that he seemed to settle to life in the zoo, where at least the meals were regular. He spent the next 20 years there, living his final year in retirement at a falconry centre in Gloucestershire, where he finally turned up his talons in March 1986.