In one of the most notorious criminal cases of the 20th century, multiple murderer John Christie received his death sentence on June 25th, 1953.
The 54-year-old had murdered at least eight people by strangling them and concealing their bodies in various places at his address at 10 Rillington Place. Although he was only convicted of murdering his wife, Ethel, he admitted while in custody and during his trial that he had killed others and the single conviction was enough to secure the death sentence.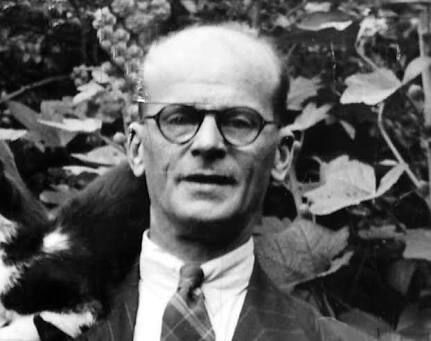 In passing sentence, trial judge Mr Justice Finnimore commented: "I do not know whether any jury before in this country, or perhaps in the world, has seen and heard a man charged with murder go into the witness box and say, 'Yes I did kill this victim, I killed six others as well over a period of 10 years'."
The only victim who he denied killing was Geraldine Evans, the baby daughter of a former neighbour at 10 Rillington Place, Timothy Evans. Tragically, Mr Evans was accused of killing both his wife and daughter, later convicted of his daughter's murder and executed in 1950. During questioning he said Christies had killed both, but police failed to take his accusation seriously ­– a mistake that led to Christie killing four more women before he was caught.
Evidence of his crimes came to light after he moved out of 10 Rillington Place (a large run-down house converted into separate flats) in March 1953. When the new tenant of his ground floor flat was trying to put up a shelf in the kitchen he discovered an alcove which had been wallpapered over. Peeling back the paper he was horrified to discover three bodies. The police were called in and discovered the body of Christie's wife under the floorboards and two more bodies buried in the garden.
With the exception of his own wife and the wife and daughter of neighbour Timothy Evans, all of Christie's victims were women he had lured back to his flat, sexually assaulted and strangled with a ligature. During his earlier questioning, Mr Evans said Christie had strangled his wife and daughter after performing a botched abortion on his wife. Their bodies had been discovered in an outdoor shed but detectives, convinced of Mr Evans' guilt, dismissed his story and possibly fabricated his confession.
Despite the mountain of evidence against Christie, he denied murder on the grounds of insanity. His defence lawyer claimed he was suffering from "a defect of reason" which meant that although he knew what he was doing, he did not know that it was wrong. He said Christie's mental problems were evident as early as 1918 when he was caught in a mustard gas attack while serving in the First World War and lost the ability to speak for three-and-a-half years.
At the end of the trial the jury took just an hour and 22 minutes to reject his insanity defence and convict him of murdering his wife. He was not charged with the deaths of the other women because the single conviction was enough to earn him the death penalty, handed down by the judge.
Newspaper coverage of the sensational trial gripped readers in the UK and across the western world. When Christie was hanged at Pentonville Prison on July 15th, 1953, a crowd of 200 people gathered outside waiting for the official notice of execution to be posted.
Christie was hanged by prolific executioner (and fellow Yorkshireman) Albert Pierrepoint, who also hanged the almost certainly innocent Timothy Evans three years previously. A story emerged that as Christie was being pinioned ready for his execution, he complained that his nose itched, but Pierrepoint assured him: "It won't bother you for long".
Christie's case aroused significant controversy over the by-then apparent mishandling of Timothy Evans' arrest, questioning, trial and execution, not least because Christie was a key prosecution witness against him. The miscarriage of justice contributed to the suspension of capital punishment for murder in the UK in 1965. Following a series of inquiries and reviews, Mr Evans was granted a posthumous pardon in 1966.
Christie and his criminal activities at 10 Rillington Place have since been portrayed in books, on stage, film and on TV, with the cold-blooded killings captivating audiences. A waxwork model of Christie's hanging also features in the Chamber of Horrors at Madame Tussaud's, in London.