When you're considering a purchase, especially if it represents a significant investment, and you're not quite sure whether to go ahead, who do you want to hear from?
Is it the salesman with a vested interest promoting his product? Maybe you turn to a consumer guide or comparison website for more impartial information? You might seek advice from friends and relatives, people whose opinion you value and trust? Or you could see what other customers – people like you – have said about a particular product and the company which supplied it.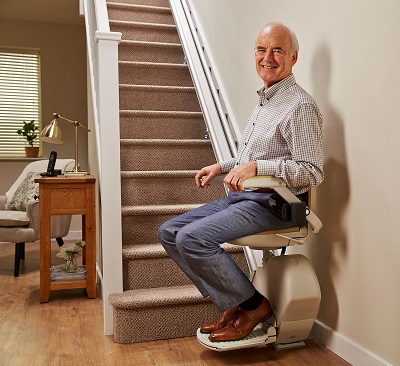 At Acorn Stairlifts we actively seek customer feedback. It's helped us shape and refine our products and services over the years, but it also reminds us of the positive impact our stairlifts make on people's lives… and who wouldn't want to hear about that?
Here is a small selection of the comments we've received recently from people across the UK who are now enjoying the daily benefits of their Acorn Stairlift:
Mrs Foreman, from Chelmsford, told us: "After leaving hospital I was confined to downstairs only, but now my home is back again."
Mr Barney, from Kidderminster, said since his Acorn Stairlift was fitted he has experienced a "100% quality of life improvement".
J. McCagney, of Kingswood, Surrey, said the stairlift "has enabled us to get out of the house and have some social life".
Mr Berridge, of Nuneaton, wrote: "Having had a stairlift for some years I find Acorn so, so good. Everything went so well from start to finish. Never had such good service."
Miss Mitchell, of Harrow, told us: "I can carry things upstairs, such as washing. I don't mind if I forget something upstairs now as I can painlessly nip up and down."
Mr Newman, of Yeovil, said: "Following my wife's stroke the stairlift has been invaluable in assisting her mobility around the house."
Mrs Rudley, of King's Lynn, explained she has very bad arthritis in her joints but her legs are much better now she no longer has to climb the stairs, adding: "It's marvellous no longer having to sit on my bed to catch my breath."
Mrs Nicholls, of Swindon, said their new Acorn stairlift "has made life so much easier for my husband, and for me as his carer. He's much safer and I feel confident to leave him on his own now."
Mrs Reader, from Bradford, wrote: "I have confidence in the product and your staff. It is easy to use, comfortable and safe and has also helped my husband, who is my carer. It has lifted the worry and stress knowing we can rely on Acorn."
Mr Laverach, of York, liked Acorn's "speedy service" and told us: "My wife would have been bedroom-bound if we hadn't had the quick service you provide."
Mrs Benson, of Abbots Langley, had a special reason for having an Acorn installed in her home. She explained: "My recently widowed father can visit us and stay, and therefore spend more time with family. It's excellent!"
Mrs Tranter, of Gloucester, suffers with arthritis and emphysema, but told us she now has "no more pain or breathlessness trying to get up or down stairs. It's a huge, brilliant difference – thank you."
Mrs Carruthers, of Tunbridge Wells, suffered a fracture following a knee replacement and wrote that her stairlift is "very convenient and safe".
Mr Pellow, of Angus, said his Acorn gives him "full access to the house" and he enjoys its "simplicity of use".
L. Shoebridge, of Wallingford, enjoyed Acorn's "excellent service, start to finish" and said her stairlift is "an absolute blessing when my back and legs are hurting".
Like many of our customers Mr Broadbent, of Huddersfied, was a reluctant to start using a stairlift. His wife told us he was "not sure at first, but now it's the best thing – he uses it all the time. It's made getting upstairs so much easier."
Mr Chambers, of Loughborough, wrote: "Both my wife and myself can now go up and down the stairs with ease and stay in our home far longer."
Mr Talbot, of Dunfermline, said Acorn was "a superb company to deal with" and added: "In such a short time the stairlift has made life so much easier."
Mr Law, of Harrow, chose Acorn on price, speed of response and the helpful attitude of employees, saying his stairlift "means I can get upstairs without exhausting myself".
Mrs Cooper, of Leeds, echoed a sentiment we so often hear when she said her Acorn Stairlift "has made life so much easier – wish we had purchased one a lot sooner!"
The final word (for now) goes to Maureen Rourke, of Chorley, who said of her stairlift: "It has given me back my independence and a new lease of life."