A revolutionary new vehicle billed as an alternative to cars and bikes was launched by Britain's best-known inventor on January 10th, 1985.
Unfortunately, the 'Sinclair C5' was dogged by scathing reviews, safety concerns and poor sales and would become one of the most notorious business flops of the 20th century.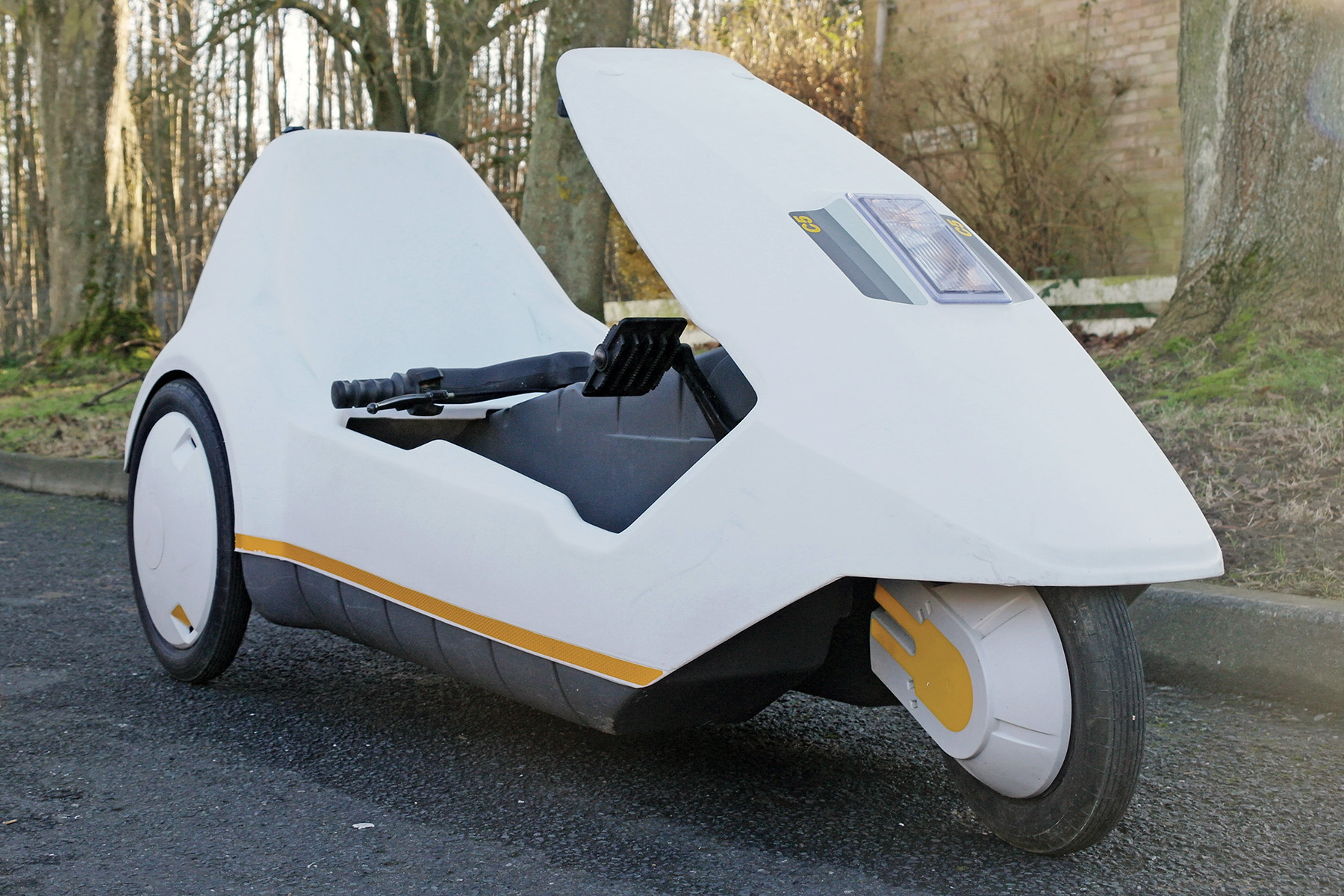 News of the C5 – officially an electrically-assisted pedal trike – had been circulating for a couple of years. It would probably have been dismissed from the outset as a crackpot scheme, except for one thing – it came from Sir Clive Sinclair, an electronics genius who made millions inventing and developing pocket calculators, miniature TVs and Britain's best-selling home computer, the ZX Spectrum.
Even the most sceptical commentators wondered if Sinclair could actually make a success of his latest project, inspired by his passion for personal transport, but his previously golden touch was about to be seriously tarnished.
The launch event, staged at London's Alexandria Palace on a cold January day 35 years ago, was a typically glitzy affair, with attractive models handing out press packs to generally bemused journalists unsure what to make of the C5. Other 'freebies' showered on invited guests included promotional T-shirts, hats, keyrings, sun visors, bags, mugs and even a C5 video game. There followed a dramatic unveiling when six C5s burst out of large cardboard boxes and were piloted around the arena by models dressed in grey and yellow – the C5's signature colours.
Sir Clive announced his C5 would have a price tag of just £399 and be sold initially by mail order and later through high street retailers. He also announced a £3 million three-month advertising campaign in print and on TV. All very impressive, but the problems began when journalists tentatively climbed aboard the waiting C5s.
Several of the demonstration machines did not work, apparently affected by the cold weather. Others suffered a flat battery within only a few minutes or struggled to cope with even gentle inclines around Alexandria Palace. Of those journalists who did manage a 'test ride', most returned shivering and deeply unnerved at the risk from conventional road traffic to the C5. At just six feet long, two-and-a-half feet tall and with no safety belt, it was no match for even small cars on London's busy roads, let alone buses and lorries.
Even distinguished former racing driver Stirling Moss – a fellow alternative transport enthusiast – struggled to put a brave face on things. The battery in his C5 quickly gave up the ghost and he returned sweating despite the cold, after pedalling unaided by the small electric motor. Most agreed the launch event had been a disaster and questioned the wisdom of holding it in the middle of winter on an icy hill, especially as the C5 had no weather protection for its 'pilots'.
Early reviews were, almost without exception, extremely poor, criticising the C5s design, usability and performance and pouring scorn on Sinclair's claim of a 20-mile range from the 12-volt battery and 250-watt motor. Most damaging of all, there were huge misgivings about the safety of using the C5 on public roads among other traffic. Its low position made it difficult to see, even with the optional warning flag attached to the back, and its maximum speed of 15mph meant it would be constantly overtaken by much larger vehicles.
Although pitched at people who commuted by car or bicycle, the C5 failed to attract either group and sales figures were disastrous. Within three months of the launch, production of the C5 had been slashed by 90% to just 100 vehicles per week and within eight months it ceased completely. Of the 14,000 C5s made, just 5,000 were sold before Sinclair Vehicles (the company set up to produce it) went bust. Even many of those sold went for drastically reduced prices as high street retailers sought the clear the bulky items from their storerooms.
Some C5s were sold to holiday camps which would rent them to campers and others went to customers who had enough private land to drive them without ever having to venture onto public roads. Princes William and Harry had one each to pilot around the grounds of Kensington Palace!
But nowhere near enough were sold to make the product viable and it became Sir Clive's first major flop. However, the handful of Sinclair C5 buyers could still have the last laugh, as in more recent years it has gained a cult following, boasting its own fan club. Examples of the C5 in good condition now change hands among collectors and enthusiasts for several thousand pounds, far more than their original selling price.
Some modern commentators argue the C5 was simply ahead of its time and helped establish many of the principles used in increasingly popular electric bikes and even electric and hybrid cars, which today benefit from improved technology, especially in batteries.
Now aged 79, Sir Clive Sinclair continues to invent and innovate, one of his latest projects being the world's lightest and most compact electric folding bike (the A-Bike Electric), which sells online for £400.
• To watch a 1985 'infomercial' about the then new and revolutionary Sinclair C5, click here.