National Feet Week is taking place from March 9th to 15, encouraging people of all ages to think more about their foot health.
Most people automatically book regular check-ups with their dentist or optician, but how often do you consider the benefits of a regular check-up for your feet? Visiting a podiatrist or chiropodist at least once a year, and more often if you need it, could bring real benefits in addressing a number of potentially significant foot conditions.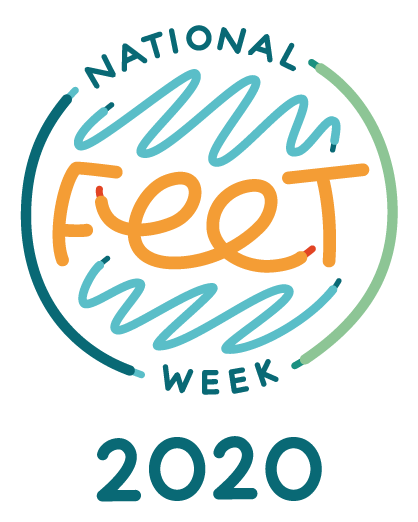 Incidentally, if your confused by the two terms 'podiatrist' and 'chiropodist', don't be – they're the same. Podiatry is just a newer and increasingly more common term for chiropody, but podiatrists and chiropodists have the same qualifications and experience and treat the same conditions.
It is foolish to ignore common foot complaints and think they'll go away on their own when in fact they might get worse and getting the correct treatment in good time could make a world of difference. Fungal nail infections, corns, heel pain and hard skin can all be routinely treated, giving tired and neglected feet a new lease of life.
Podiatrists/chiropodists are healthcare professionals who've been trained to diagnose and treat abnormal conditions of the feet and lower limbs. They also prevent and correct deformity, keep people mobile and active, relieve pain and treat infections. They can give you advice on how to look after your feet and what type of shoes to wear to prevent problems occurring or getting worse.
Some of the many conditions treated by podiatrists include corns and calluses, verrucas, athlete's foot, ingrown toenails, fungal nail infections, flat feet, dry and cracked skin, bunions, blisters, gout, smelly feet and sports injuries. If your feet are giving you any kind of trouble, your first port of call should be your local podiatrist.
You might get referred by your GP for podiatry care if he or she diagnoses a particular foot-related issue, but you can also see a podiatrist privately for more routine foot maintenance. At an initial consultation, the podiatrist will take a full medical history and carry out basic tests, such as checking the blood circulation and feeling in your feet.
He or she might also look at the way you walk, move your lower leg joints and discuss your concerns with you, then make a diagnosis and treatment plan. Minor problems that are picked up can usually be treated on the spot, including the removal of hard skin, corns and calluses. The session is usually painless and takes between 30 and 60 minutes.
You might qualify for podiatry care on the NHS, especially if it's linked to a long-term health condition such as diabetes, peripheral arterial disease or rheumatoid arthritis. With these and other conditions, regular professional foot care is essential. You should speak to your GP surgery to see if you qualify for free podiatry on the NHS.
Even if you don't. investing in the care of your feet will pay long-term dividends. There's a useful tool on the NHS website to help you find a podiatrist or chiropodist in your local area. Just click here to access it. If you have mobility problems, many podiatrists will visit you and provide treatment in the comfort of your own home. As for costs, make sure you ask before making a booking, and there's nothing to stop you ringing round to compare prices.
Anyone practising podiatry (or chiropody) in the UK must be registered with the Health and Care Professions Council (HCPC). You can check if your chosen practitioner is registered by clicking here to visit the HCPC website. He or she might also have the letters MChS or FChS after their name, meaning they are a Member of, or Fellow of, the College of Podiatry. For more about foot health and finding a qualified podiatrist, you can visit the College of Podiatry website by clicking here.