Built in Britain, Acorn Stairlifts are exported around the globe, but engineers faced a unique challenge when installing them in Australia.
Some of the first users on the other side of the world reported a peculiar issue which didn't really cause them a problem, but was an 'annoying niggle'.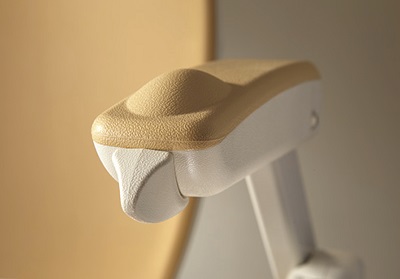 When riding on an Acorn Stairlift, people use a directional paddle switch placed on the end of the armrests on the carriage (pictured), where their hands naturally fall. Moving the paddle in the direction towards the top of the stairs starts the carriage moving upwards on the stairlift rail, while pushing the paddle in the other direction, towards the bottom of the stairs, takes the carriage down again.
Unfortunately, because Australia is literally 'down under', the reverse polarity of the globe means that the UK's up is Australia's down, and vice versa. Customers in Australia quickly found that when they moved the control paddle towards the bottom of the stairs, the stairlift carriage started to move upwards, while moving the paddle towards the top of the stairs sent them down again.
Although this didn't impede the overall operation of the Acorn Stairlift, it was deeply counterintuitive and many Australian users reported finding it confusing. Some sat for several minutes at the foot of the staircase repeatedly pushing the paddle in the 'obvious direction', but going nowhere.
After investigating the problem at Acorn's West Yorkshire HQ, research and development engineers came up with a simple fix. They were able to flip over the electronic control module located in the stairlift arms. It means that in Australian models, moving the paddle towards the top of the stairs engages the 'down' solenoid on the control module, which in Australia sends the stairlift upwards. The same procedure works in reverse to go downwards.
Now, all of Acorn's Australian installation engineers have been trained to flip the control module when fitting the stairlift on location. Each module is marked with the instruction 'Flip Over On Location' as a reminder to installers.
The same problem was identified on the remote control units supplied as standard with all Acorn Stairlifts (pictured above). In Australia, pushing the up button on the remote control sent the stairlift down the rail and pushing the down button sent it up. However, that problem was more easily overcome by putting a sticker on Australian remote controls asking customers to hold them upside down.