The first – and so far only – female Speaker of the House of Commons was elected to the 70-year-old post on April 27th, 1992.
Plain speaking Yorkshirewoman Betty Boothroyd MP was known for her 'no-nonsense' approach to politics and became immensely popular in the role of Speaker, which she held for eight years until retiring in 2000. Known for her warmth and humour, she was also a formidable force and expert in restoring order to often rowdy and heated Commons debates.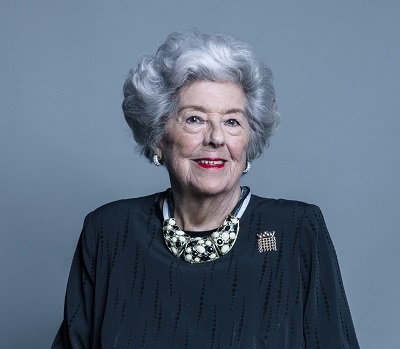 Born in Dewsbury, West Yorkshire, she was a member of the famous Tiller Girls dancing troupe in her younger days before first getting involved in politics through working as a secretary to Labour MPs including Barbara Castle. She had served as Labour MP for West Bromwich since 1973 and at 62 was an experienced MP by the time of her election as Speaker.
It is the second highest office in British Government, after that of Prime Minister, and traditionally held by an MP from the ruling party, although the role itself is politically neutral. As a Labour MP sitting in opposition to John Major's Conservative Government, Betty Boothroyd broke that convention, becoming the first opposition party MP to hold the job since World War II.
It was also the first time since 1951 that the appointment of Speaker had been contested, with two Conservative MPs, Peter Brooke and Sir Giles Shaw, standing against her. Miss Boothroyd's victory by a decisive 134-vote majority was seen as a mark of the esteem in which she was held by all parties, with more than 70 Conservative MPs among those voting for her.
When the result was announced, MPs broke with Commons protocol by standing to applaud their first female Speaker as she took her chair. Clearly moved by this demonstration of cross-party support, she said: "I wish to thank the House for the very great honour it has bestowed on me. I pray that I shall justify its confidence and I pledge that I shall do all in my power to preserve the Speakership and its traditions."
Congratulating her, Prime Minister John Major said: "You have become our Speaker-elect because this House trusts you. It believes you enjoy in abundance the qualities necessary to protect and sustain the House and to safeguard its rights. The fact that it was a contested election adds, I believe, to your success."
Miss Boothroyd had already 'served her apprenticeship', having been a Deputy Speaker for five years, and was clearly a popular choice as "Madam Speaker" – a title she had inadvertently chosen herself. When elected as a Deputy Speaker, fellow MPs asked what they should call her. Men in the role had always been known as "Mr Speaker", but "Mrs Speaker" sounded odd and in any case Betty Boothroyd had never married and was a 'Miss'. When MPs asked how they should address her, she famously replied: "Call me Madam."
As Madam Speaker she quickly became renowned for her distinctive style and any male MPs who thought they might intimidate her were soon cut down to size. On the very first occasion she presided over Prime Minister's Question time she astonished the Commons when she ended the session by announcing "Right – time's up!" It would become one of her catchphrases. While her distinctive calls of "Order! Order!" became known around the globe.
As the first woman speaker and clearly one of the most capable and universally respected in the history of Parliament, she is credited with inspiring a new generation of women to get actively involved in politics. On stepping down as Speaker and MP in late 2000, she was granted a life peerage and took her seat in the House of Lords as Baroness Boothroyd of Sandwell in January 2001. Now aged 90, she remains active in the Lords, where she is both revered and respected.