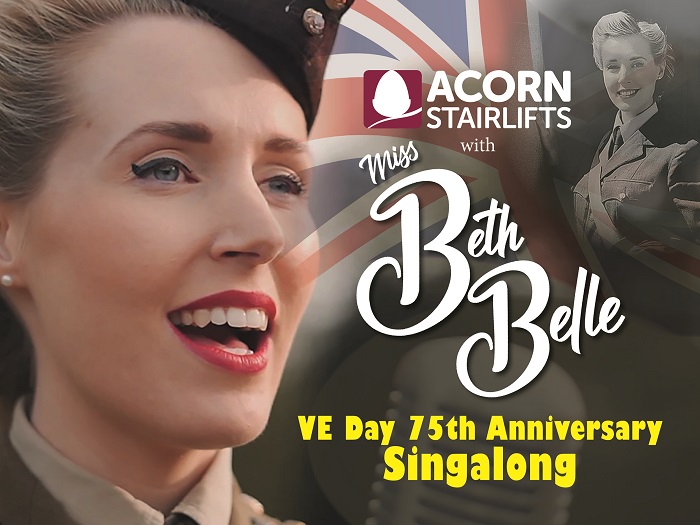 Today's the Day! Acorn's VE Day 75th Anniversary Singalong concert is now live and free to view.
Performed by professional 1940s vocalist Miss Beth Belle, the song list includes evergreen wartime favourites such as 'Sing As We Go', 'Boogie Woogie Bugle Boy', 'White Cliffs of Dover', 'Chattanooga Choo Choo' and, of course, the Vera Lynn classic 'We'll Meet Again'.
There are also requests and messages from our friends at Steeton Court Nursing Home, who'll be enjoying the show today as part of their own VE Day 75 celebrations. You can enjoy it too – just click on the link below to start watching the show:
• If, for any reason, clicking on the link does not work, try typing the following into your internet browser: https://vimeo.com/415514412
TIPS:
When you click the link above it will take you to the website hosting the VE Day Singalong show. You'll see a long bar running along the bottom of the snapshot photos. At the right hand end is a small symbol with four outward pointing arrows. Click on this symbol to view the show in full screen. Then click on the triangle 'play' icon at the left hand end of the long bar to start the show.
You might want to connect your internet-enabled device to a compatible TV set to watch the show on a bigger screen, but you don't have to.
There isn't a specific 'broadcast' time for the show and you don't have to watch it today. Just log in whenever suits you, then sit back, sing along and enjoy!